These 15 Backsplash Ideas Are Pinterest Fail Safe And Are Oh-So Pretty
Spicy up your kitchen counter with gorgeous backsplashes inspired by these ideas!
By Hometalk Highlights
Place the first tile behind the faucet and work your way up, then cut tiles to size for the corners.
Paint the base of the walls gray, then begin taping off the brick sections, and brushing on white glossy paint.
Patch up damaged sheet rock underneath and use an aluminum border piece as the base for the tiles.
Sort the beads by size and paint the backs of the glass beads the color you desire.
Begin by cleaning down the wall surface and adhere the tile according to the instructions. (Laci Jane)
Line up the tile together, brush on diluted chalk paint, and begin to stamp across the the tiles.
Remove the paper from the sticky back carefully and use a credit card to smooth out the air bubbles. (The Crazy Craft Lady
Press the adhesive tile back onto the surface and gently press the hexagonal mosaic grids on.
Cut down quality plywood to size, then cover the wood and wallpaper in glass.
Spread the adhesive onto the surface of the wall, stick the bricks, and wip of the mortar.
Get the plumbing done for the pot filler and assemble the herringbone tile focal area in the center.
Get Fabulous Faux Tiles With Stencils
Start with a freshly painted wall and paint over the Portuguese tile inspired stencil.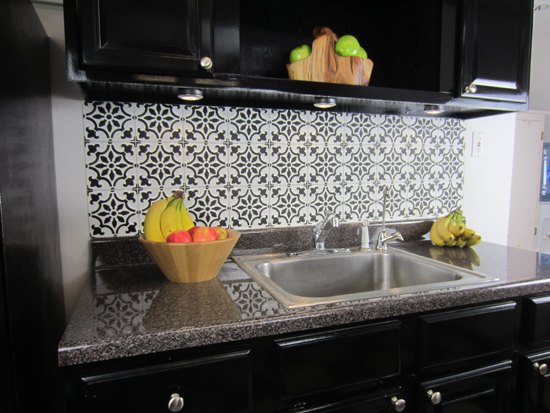 Cut and place up sticky wall mats, then stick on the pennies.
Chop shims to 4" and build off of the first row.
Carefully place chains plates in a pattern you'd like, and adhere with Liquid Nails.