The Things I Get Involved With?



Answered
In April 2016 a large commercial developer announce they were re-developing a brown field into a commercial building and a restaurant. The site consisted of a very large red iron building clad in corrugated metal and an attached brick building and once was The Kalamazoo Foundry. I contacted them in search industrial relics that I could repurpose.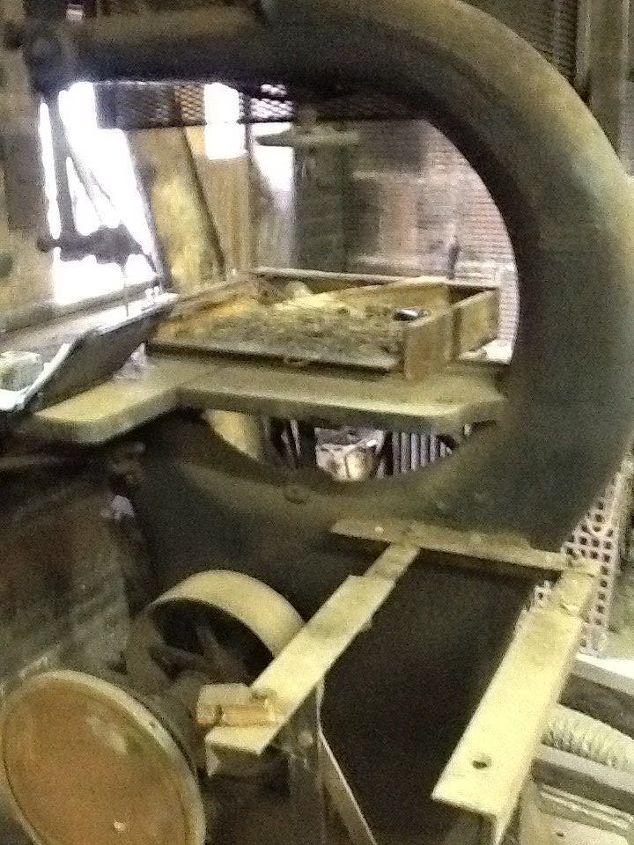 They had considerable number of work tables, desks, sinks, and fixtures. But in the end I could rationalize the cost and space required to put them in my already too large inventory of future projects.
The construction supervisor did give me permission to salvage as many galvanized corrugated panel as I could before actual demolition had started for a very cheap price. I was able to get about 12 2 ft by 8 ft panels that were old but never used on the building. I also pulled about six panels off the outside of the building, They were somewhat difficult to remove and still fastened together after I freed them up from the building. They were cool- aged and some had graffiti, but not worth life and limb to get them down. I was able to sell all of the used corrugated and most of the "new" to local decorators. I kept a couple of the new pieces and plan to use them as bar fronts. In hindsight I should have contracted an actual demolition company and obtained much more of the siding.
During this process I had a conversation with the Project Supervisor about an antique industrial band saw that was on site. We agreed it was as HIR (historical industrial relic) and it deserved to be rescued.
Sure enough, almost a year later the supervisor called and asked if I would be interesting in restoring the band saw for display in the commercial part of the development. How could I beg off- he had given me a shot at the siding and I like to think of myself as one who "walks the talk".
It was a mess, huge, and heavy. I said I could clean it up but would not get involved with the moving.
It is cast iron and probaly dates to the early 1900s. It has 36 inch diameter drive wheels and almost a 16 inch throat. Being in a foundry, one would expect it to be a metal cutting saw. But much of the grime was sawdust so it was probably kused to cut wooden patterns for the castings.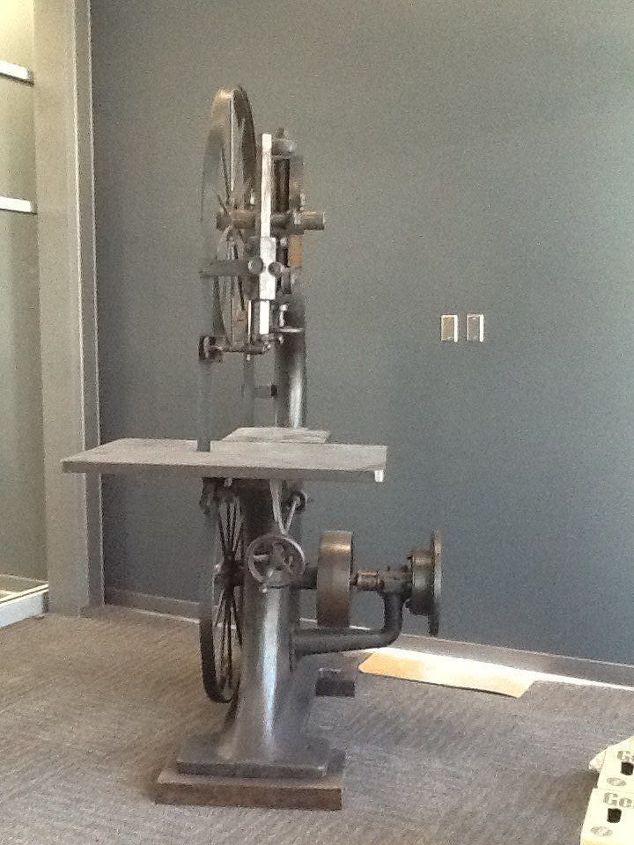 I removed a guard and a motor mount that I am confident were not part of the original saw. The saw was probably driven by a flat belt from a drive shaft that ran multiple machined. The drive shaft could have been driven by an electrical motor, or maybe even steam.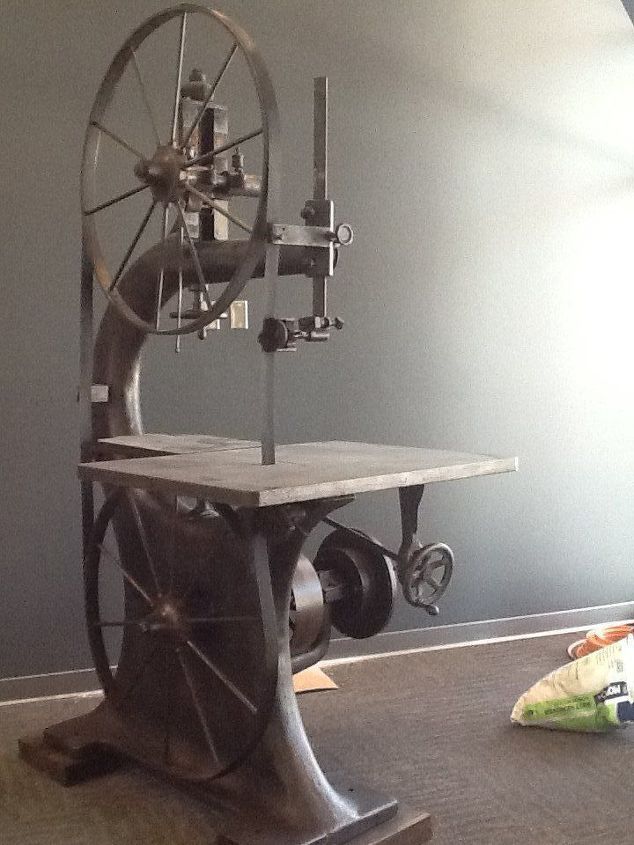 Once the saw was cleaned/rinsed down with mineral spirit, scrubbed with a wire brush, steel wool, and Scoth-Brite pads it was clear-coated with polyurethane. In homage to it's original purpose I fabricated a faux band saw blade out of nylon strapping.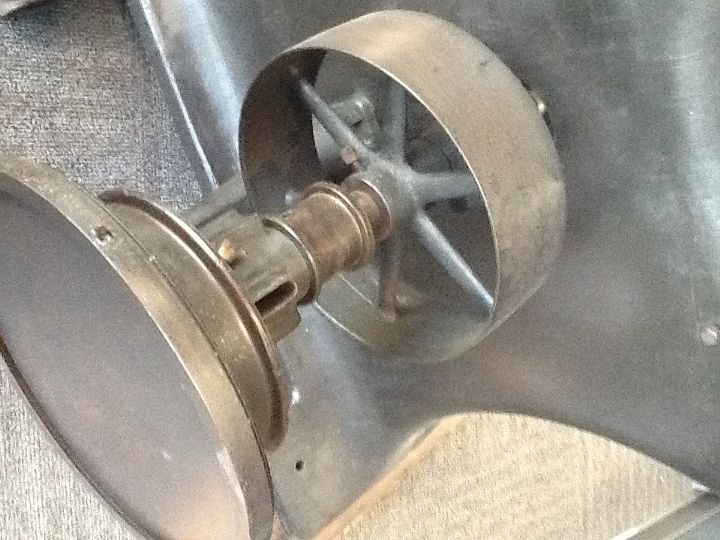 It now sits in the entry foyer of the commercial space and the restaurant is scheduled to be completed by October 2017.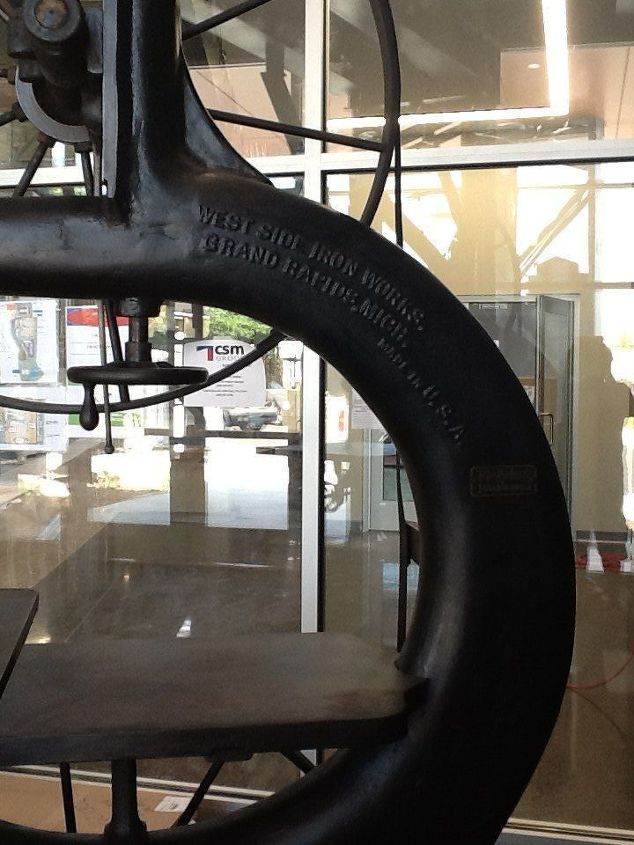 Google 'west side iron works Grand Rapids' and get a history lesson.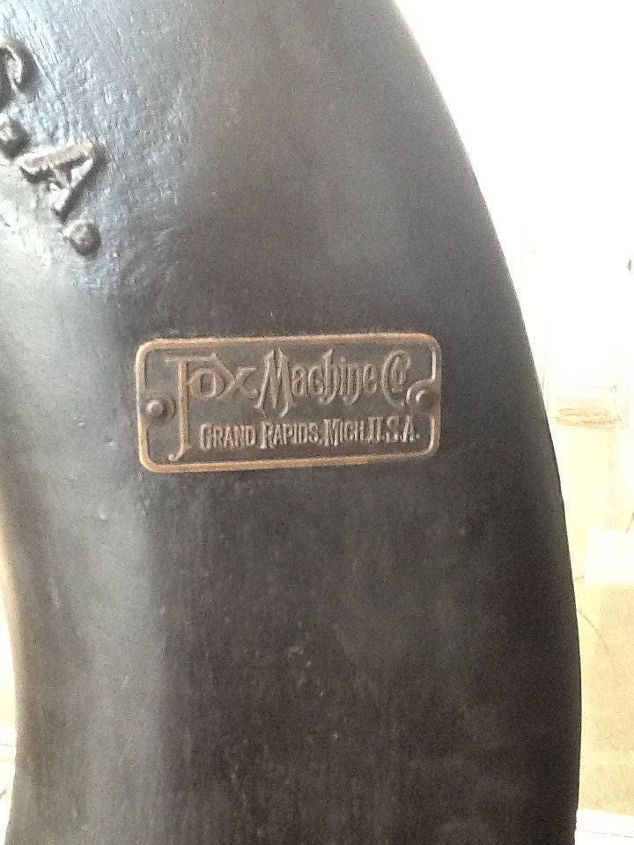 Google 'Fox Machine Company Grand Rapids Michigan' for an additional history lesson.
Just wanted to share a story of the places and projects repurposing can lead to.
John