Asked on Oct 1, 2017
How to put a tough surface on a plywood sheet under my computer chair?



+12
Answered
I have carpeting in the master bedroom, which is used as my office, and I placed a 4x8 sheet of plywood, over the carpet in front of the computer desk. Now it is a smooth surface to roll around on with the chair. But the wood gets dirty and I need to either cover or seal it somehow. Any suggestions?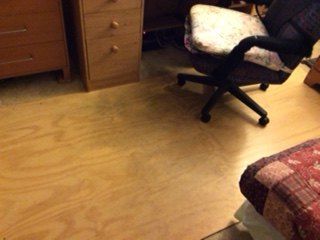 Plywood screwed through carpet to sub-floor. Previously coated with acrtlic sealer.