Related Discussions Philip Jackson
on Aug 13, 2018
No foreign objects in disposal, just stuck. Motor will "hum", but blades will not turn and grind. Can't find the wrench/tool to unlock it. Is there something that can... See more Tony
on Jan 04, 2020
Clean off green corrosion off of a copper hammered sink?
Connie McClain
on Jun 01, 2019
You've answered this before, but I forgot. What can I use to clean a smooth top stove? Lisa
on Feb 27, 2019
What products would work best for painting an old Singer Sewing machine with the black iron base.
Colleen Decicco
on Jan 04, 2019 Judith
on Jul 07, 2018
I have an Oster Toaster Oven that I love but I'm afraid it's no beauty. It's black with chrome trim. I like the trim, but want to change the black box to something fr... See more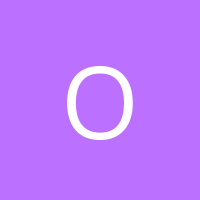 Old Lady Medic
on Mar 30, 2018
I'm refurbishing a stained glass window in a frame that has hinges on one side. I want to remove the hinges, but the screws won't come out. (I've only been able to ge... See more