Asked on Jul 14, 2018
Bathroom Issues Questions????



+3
Answered
I am re-doing my bathroom. This is an extremely old home. I was considering buying the pictured shower curtain, however I wanted to put a Valance over the top of the curtain. But what would I use for a valance.....a solid color, but would that look bad? Another issue I have is this: There is a storage cabinet (see photo) 11-1/2 feet from the bath tub. I was thinking of making a curtain for the middle section. Leaving the top section as is, painting it blue also, then leave the bottom section open and putting blue and white hand towels in the Wine Bottle holder, and putting a large basket with decorative soaps, and shower bombs in that. I'm painting walls, woodwork, and ceiling powder blue. Ok, so I was also thinking of making the shower curtain and make a matching valance; but was also thinking of making the storage cabinet with matching fabric as the shower curtain. But am worried that this may be too matchie match, if you know what I mean. My bath rugs will be white. My towels will be Navy Blue. Please help me as I'm at a loss as to what to do. Apparently I can only post one photo. I will try to copy this post with the other photo.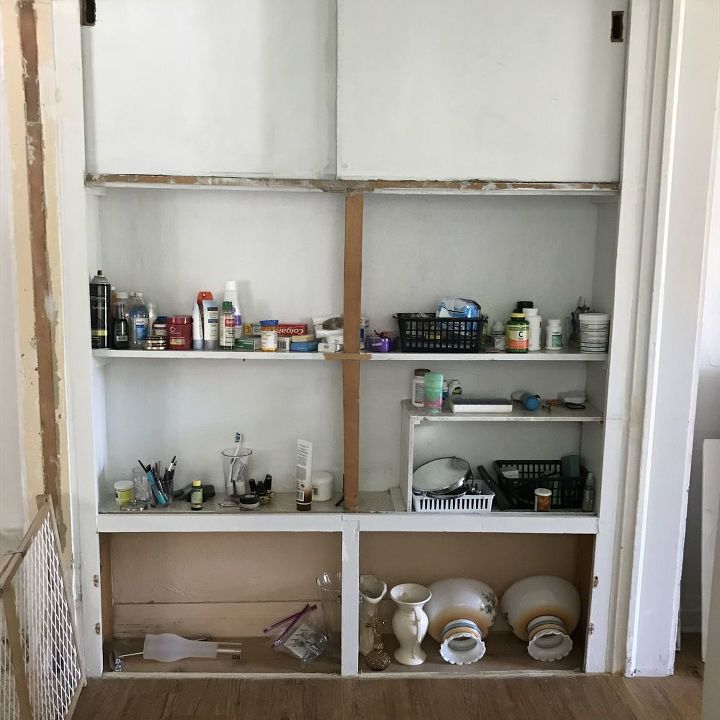 The two shelves in the middle is what I would make a curtain for.