Asked on Jan 4, 2019
How do I renovate our kitchen on a budget? +9
Answered
We live in a modular home so the walls are wallboard, which is basically drywall with a coating on it meant to look like wallpaper for quick install once they move the home in pieces to its location for assembly. The previous owners painted the kitchen, so at least its somewhat primed and ready for us to change the paint colour, except the sheets of wallboard and where the walls meet the ceiling/floor have these little strips of fake wood to cover the gaps. There's also a piece of moulding to cover a horizontal gap between the sheets of wallboard (possibly meant to look like a chair rail but it's at the wrong height.) This fake wood is also around every door frame in the house which I'd like to change eventually but will start with the kitchen. I hate how it looks. What are your recommendations for a wall treatment? I like the look of wainscoting but would have to make sure all the measurements are even but the wallboard are not the same distance apart everywhere (so do I just mud the gaps and paint everything?) I also want a backsplash behind the counters but I've never tiled anything - what are some other options or is it easy enough to do? And I'd like new light fixtures (I am open to upcycling old ones or buying new.) I would love to see your transformations/inspiration and will take any advice i can get!! I love farmhouse style and anything rustic/vintage! I do have a big farmhouse-style table I've been refinishing and hope to complete that project this spring.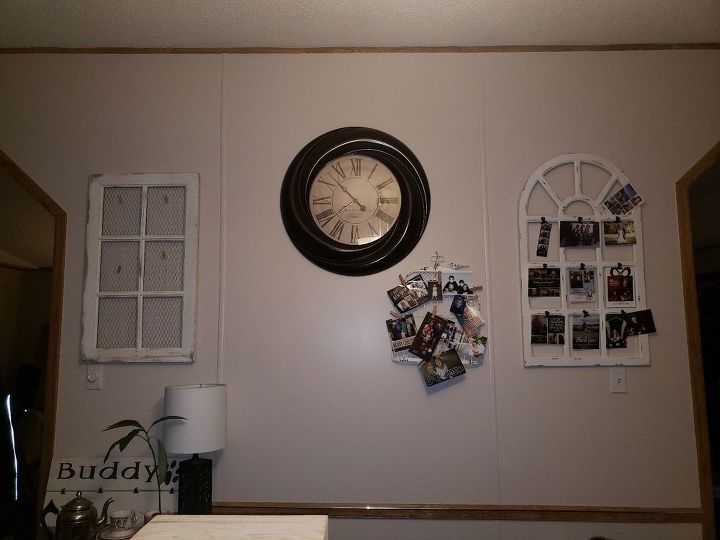 Main wall in kitchen. Brown/brass molding at bottom of picture covers a horizontal gap between sheets of wallboard.