Related Discussions Frances
on Apr 20, 2021
I had two different wall papers on my walls. The majority of the wall is a textured solid color wall paper. At the top was a dark busy looking scallop wall paper tri... See more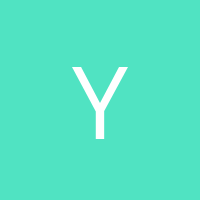 YEHUDIT
on Dec 18, 2020
Painting a wall that had issues with dampness. Drain tiles landscape etc was already done. Planning to bleach the wall first but is there a better waterproof paint. A... See more

Joye R. Foster
on Nov 03, 2020
Can you use Spar, marine paint, for file in a shower? If not what would you use? Thanks for your help!

Patsy McQuade
on Nov 28, 2016
I have a painting done on canvas that is a bit too bright. I would like to tone it down some. I was thinking of spreading on a light gray stain gel. Do you think t... See more Angell
on Mar 29, 2019
I have a chair, instead of upholstering I want to paint it.
Kathleen
on Feb 05, 2014
I recently pinned this image because I love the stencil! Does anyone know of a stencil that is similar both in design and size? It would take me forever to search thr... See more
Mandy Elizabeth Purdie
on Jan 24, 2018
I covered them with a padded doona from spotlight.