How can I add an easy privacy screen for my deck? Answered
I have a small deck but when you step out you can see your neighbors who are nosy. I like one side to have a freestanding privacy inexpensive diy idea. My thought 2 garment racks then hanging outdoor curtains. I have no tools so it needs to be easy to put together and really does not have to go full length. The picture shows the side that needs privacy screen .Thanks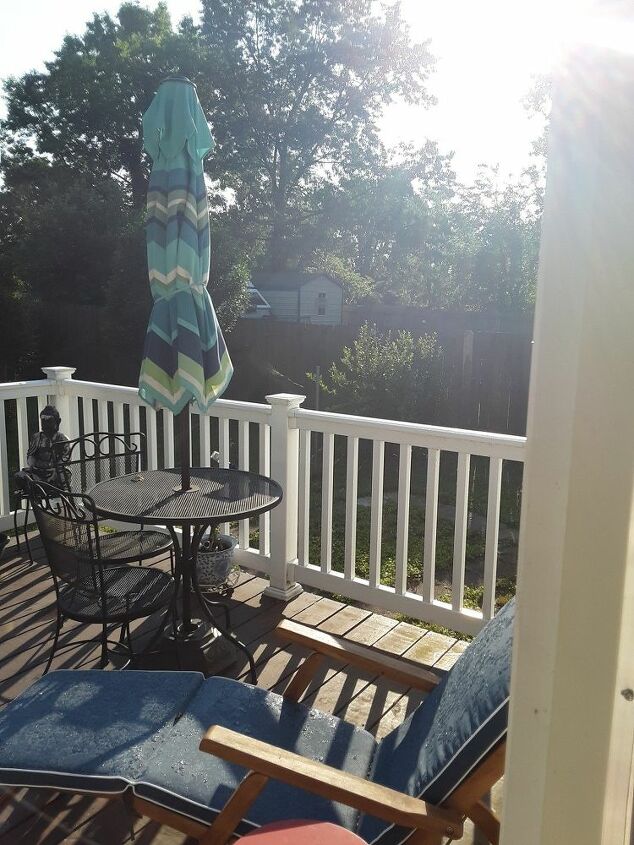 Related Discussions

Terri Winston
on Aug 16, 2020

Kate Pepin
on Mar 28, 2017
I have a tiny front stoop on a small ranch. the front door leads right into the living room - and the northwest winds come right in with guests. What can I add as a w... See more

JCskoog
on May 03, 2020
Diane Taylor
on Feb 12, 2020
Looking to add privacy from outsiders in my entryway just inside my apartment

Kathy Gunter Law
on Feb 18, 2020
We've had issues with people driving onto our property during the day. A gate will keep them from this but also prevents ups & post office to leave packages on the ... See more Pamk
on Jun 16, 2019
I want to add craftsman style dental shelf under the windows in my front door. Any sit suggestions? Thanks!

Hid15920322
on Sep 20, 2019
I was wondering if anyone had any ideas if you can't afford to build a roof over your deck what else would work? We live in missouri so we get all 4 seasons any help ... See more