Disassembling furniture that was glued together



Answered
I bought a piece of furniture that was half finished from a Craig's List ad. I could just finish it but I'd really like to take some of it apart and change it. I'm pretty sure the entire piece is just glued together (yes - somebody spent a ton of money on beautiful cherry hardwood and then just glue it!). So - barring cutting it up, does anybody know the best way to take apart a wood-glued piece of furniture?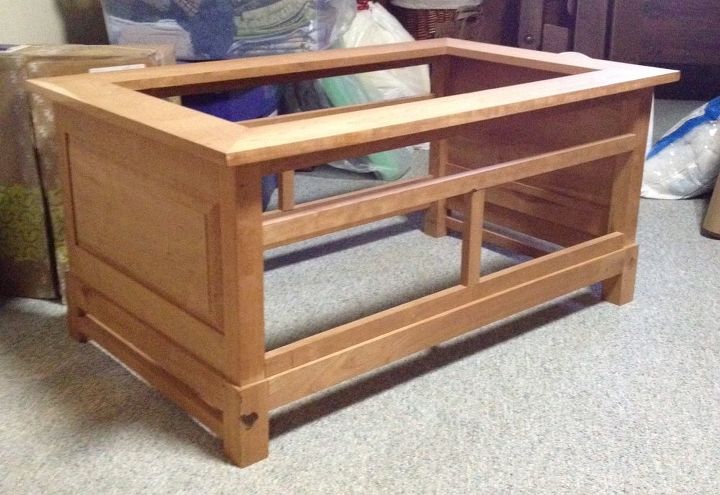 Kathy Wilson
Answered on Sep 25, 2023
We took the old popcorn ceiling off in our livingroom and thought we could just paint it. We fixed some hairline cracks where the joint in the sheetrock are, primed a... See more Tina R.
Answered on Oct 20, 2023
Does anyone know what type of hinges are attached to the top of this folding table? The legs fold in toward the back then the top folds down flat against the legs. Ddu14198807
Answered on Jul 04, 2023
I am planning on doing a mobile wood bench using 2x4. I have these wheels but have no clue to put them on

Jessica Hill
Answered on Oct 11, 2023
I am turning the sides of an old wooden crate into a coffee table top. The wood is similar to pallet wood: unfinished and prone to giving splinters. How might I go ab... See more

Bbe2004690
Answered on Mar 31, 2022
We have a head and foot board from a full size bed. We want to somehow put the two pieces together to make a King size headboard. We don't need a foot board any more.... See more

Christine Anne
Answered on Jul 04, 2023
I bought this lovely antique piece, but it's too short for an average adult. Can I safely add castors to the bottom of the feet or might they split? Any other ideas t... See more

Ileen Stephens
Answered on Aug 02, 2021
The rings will be sat on so preferably I'd like them to be able to hold around 200 lbs. I could possibly settle for around 150 lbs. I have looked at Home Depot, Hobb... See more