825 Views
Unwrap These 6 Spooky Halloween Mummy Craft Ideas
August 25th, 2023 11:08 AM
Are you ready to up your Halloween decor game? We've compiled our favorite Halloween mummy craft ideas here on Hometalk, ranging from cute to creepy! These creative DIY projects are sure to add a touch of spookiness to your home this season. Let's unwrap the bandages and dive in!
Halloween mummy crafts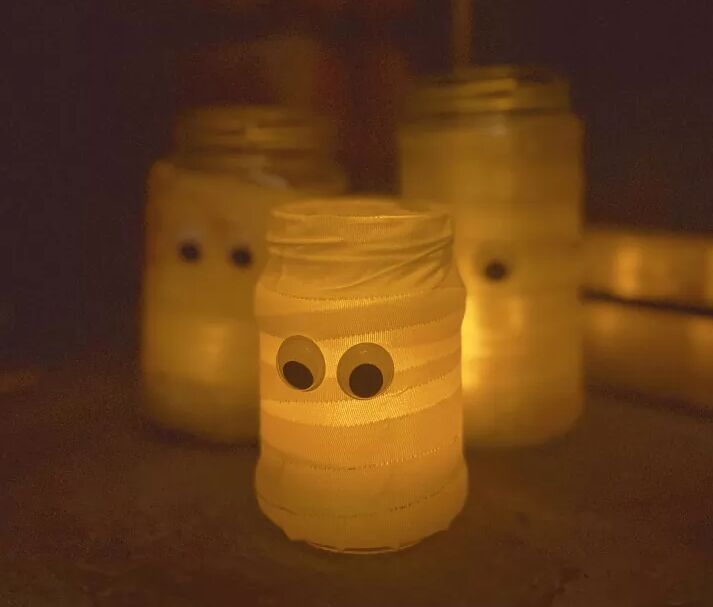 1. Mummy candles
Learn how to create adorable mummy candle holders in this upcycled DIY project by Courtney Michael. Inspired by a sibling's creation, these candle holders are perfect for the spooky season. All you need are jars, white tape (like medical tape), googly eyes, a battery candle, and scissors.
Simply wrap the jar with tape, add googly eyes, and place a battery-operated candle inside for a charming and easy-to-make decoration. Personalize by positioning the eyes and even adding accessories like bows. Enjoy crafting your own unique mummy candle holders!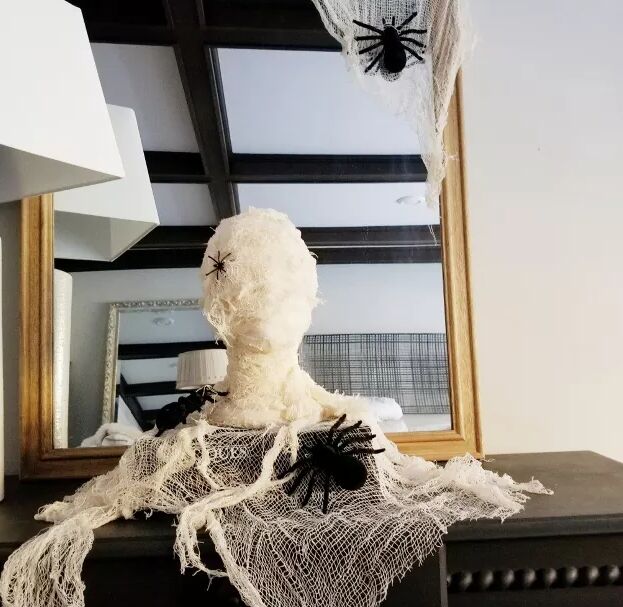 2. Mummy mannequin head
Next, Jennifer from simpleprairielife shows us how to transform a styrofoam mannequin head into a Halloween mummy decoration with this simple and budget-friendly DIY project.
Cover the head with tissue paper using Mod Podge, adding layers until it's fully covered. Then, cut and apply strips of creepy cloth, adhering them with Mod Podge. Preserve facial details while wrapping the cloth.
Once dry, style the mummy head with additional creepy cloth and Dollar Store spiders. This kid-friendly project results in an affordable and adorable mummy decoration costing less than $10.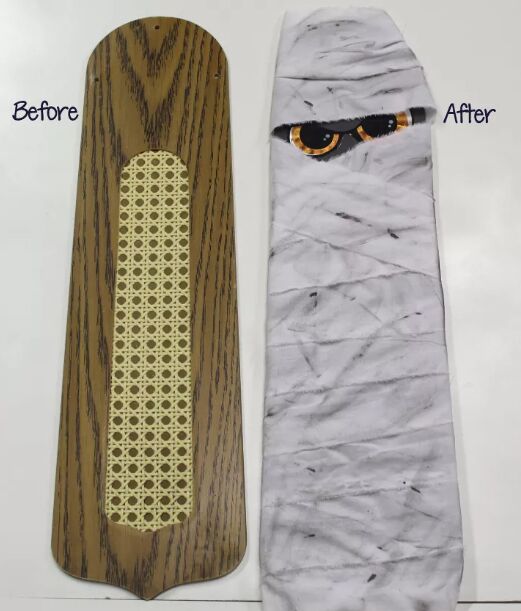 3. Ceiling fan blade mummy
Judy Tosh shares how to create a Halloween mummy decoration for your front door by repurposing a ceiling fan blade. Paint the blade with grey paint, add spooky eyes, and wrap it with white fabric strips or gauze. Adjust the fabric around the eyes and continue wrapping to the top.
For a weathered look, lightly dry brush black or brown paint for a "dirty" effect. You can add accessories like a hair bow or costume necklace for extra flair. This upcycled DIY project transforms a fan blade into a unique and spooky seasonal decoration.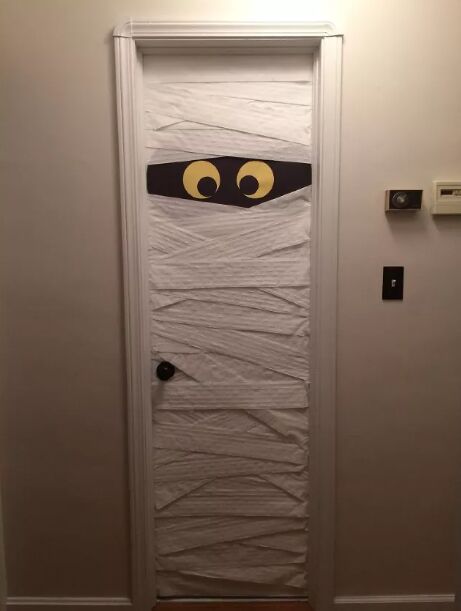 4. Toilet door mummy
Have you ever thought about transforming the bathroom door into a mummy? That's what Hometalker Beth decided to do! After painting the doors white for an updated look, use toilet paper and construction paper to create the mummy's eyes and face.
Tape the paper strips at various angles around the eyes, creating a simple yet amusing decoration that brings smiles and Halloween spirit to your home.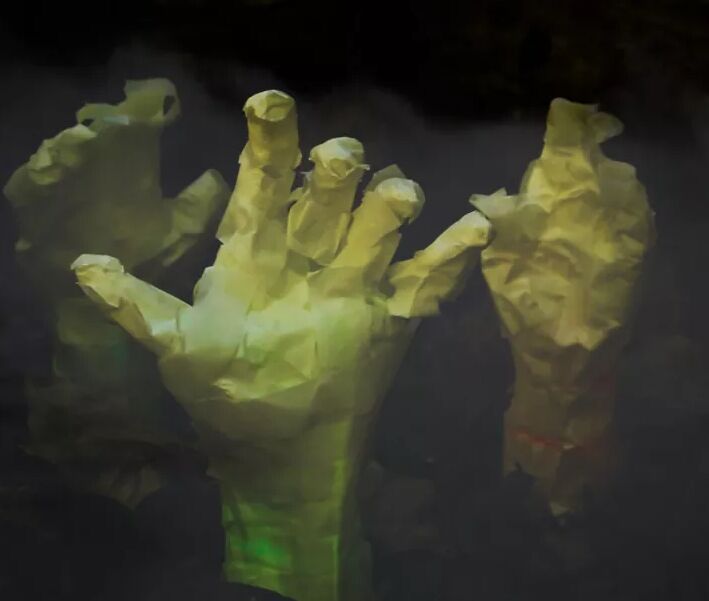 5. Creepy mummy hands
Embrace the spooky fun of Halloween with a simple DIY project by Shawna Bailey: crafting your own creepy mummy hands to enhance your yard decor. Using just masking tape, a thick straw, and glow sticks, you can create unsettling yet captivating decorations that bring a spine-tingling touch to your Halloween setup.
Wrap tape around your hand with layers, cut it open, and reseal to shape mummy hands. Add a glow stick to each hand for an eerie effect that's sure to impress and spook visitors. This budget-friendly activity adds a thrilling Halloween vibe to your space.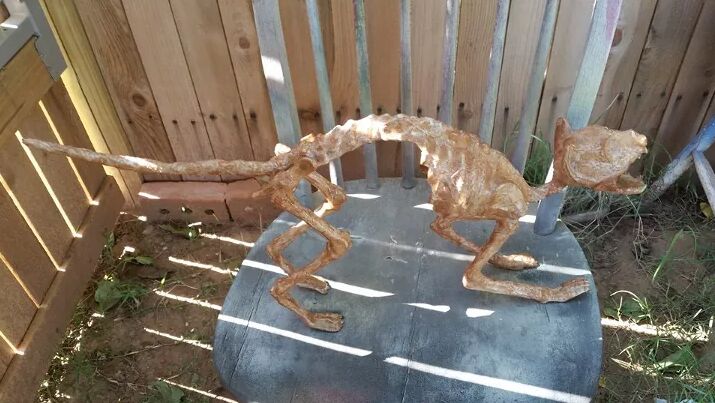 6. Mummified cat skeleton
For those who appreciate creepy Halloween decor, learn how to mummify a plastic skeleton for an eerie effect. Begin by adhering cut pieces of clear plastic onto the skeleton using spray adhesive and then shrink the plastic using a heat gun. Apply more plastic as needed for desired texture.
Use a water-based stain or diluted acrylic paint for a dried, mummified look, and protect with clear spray. The result is a realistic and creepy mummified skeleton perfect for Halloween. Note that the project can be taken even further into a skinned skeleton look.
Halloween mummy craft ideas
Which of these Halloween mummy crafts was your favorite? Let us know in the comments below. This Halloween, let your imagination run wild and create an atmosphere that captures the magic and mystery of this beloved holiday. Happy haunting!
Enjoyed the project?
Published August 24th, 2023 4:44 AM
Popular Project Book
Popular DIY Questions