929 Views
Gobble Up the Fun: 6 Thanksgiving Turkey Crafts That Wow
October 10th, 2023 9:18 AM
Get your hands busy with DIY, as we bring you an outstanding collection of Thanksgiving Turkey Crafts to beautify your home!
Whether you're on the hunt for the perfect Thanksgiving turkey decoration or simply looking to add some seasonal flair to your home, we've rounded up the feathered fun for you.
These projects are packed with creativity and holiday spirit, promising a memorable Thanksgiving celebration filled with handmade charm.
Table of contents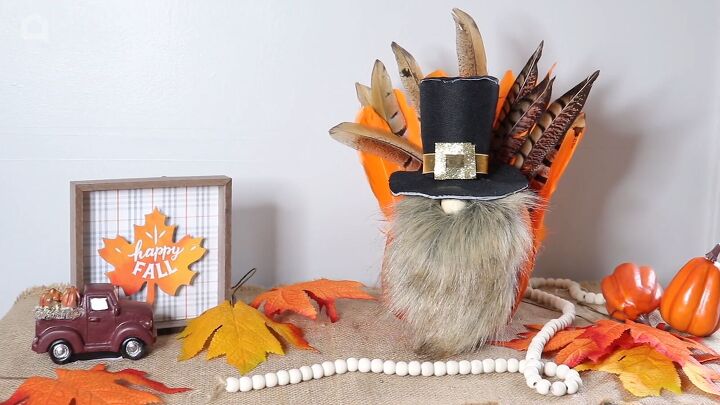 1. Craft a Turkey Gnome
Join Holly Grace in her Thanksgiving DIY project as she takes you through the process of creating a delightful Turkey Gnome to add a festive touch to your holiday celebrations.
With materials like a foam pumpkin, fabric, and a hot glue gun, you'll craft an adorable gnome with a stylish top hat adorned with ribbons. The gnome gets personality with a faux fur beard, wooden nose, and mustache. Add a touch of realism with feather garland and turkey feathers.
This project is not just about crafting; it's about infusing your home with holiday fun and creativity.
2. Make Heartwarming Pinecone Turkeys
In the spirit of Thanksgiving, Marisa Sutton's Pardon Turkey Project brings creativity and gratitude together.
Using pinecones, she crafted charming turkey decorations by outlining and cutting colorful feathers from felt. With googly eyes and a touch of hot glue, she gave these pinecone turkeys a personality. Marisa added a heartfelt touch by writing what she's thankful for on white construction paper, completing her thoughtful project.
It's a wonderful idea to share with your family on Thanksgiving, reminding everyone of the importance of gratitude and creativity during the holiday season.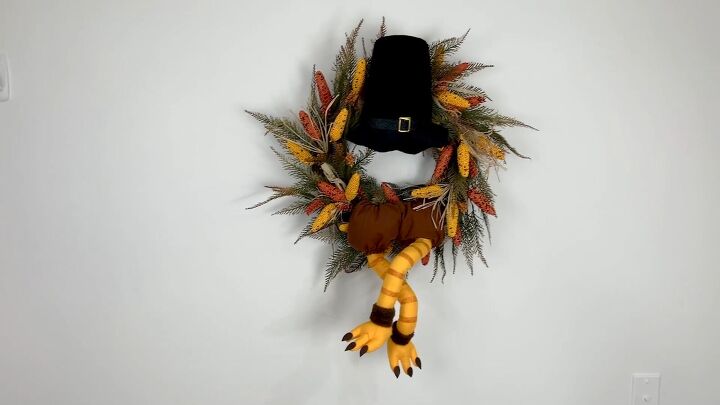 3. Design a Whimsical Thanksgiving Turkey Wreath
Nick Kreticos presents a delightful DIY project to usher in the Thanksgiving spirit with a fun Turkey Wreath. This simple and budget-friendly craft will warmly welcome your guests.
Begin with a 14-inch grapevine wreath frame and cut greenery into smaller pieces. Assemble the base by dipping greenery into glue and placing it evenly on the frame. Incorporate a pilgrim turkey decoration for a whimsical touch. Add candy corn embellished with raffia for extra flair and complete the look with miniature flowers or berries.
This cute wreath is a perfect Thanksgiving decor addition that captures the essence of this special holiday.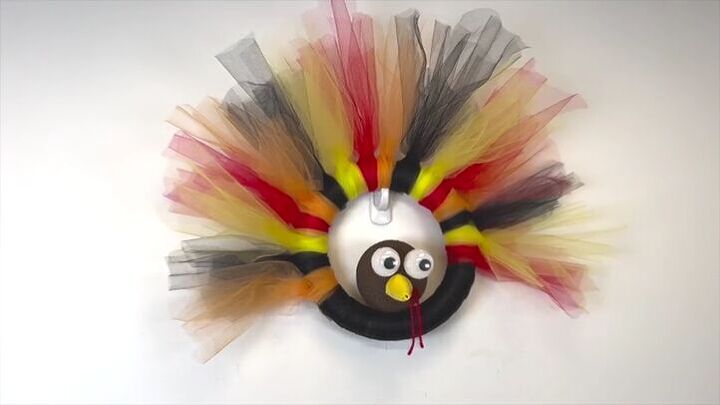 4. Create a Stunning Turkey Tulle Wreath
Nick Kreticos brings another festive and unique Thanksgiving project with a stunning Tulle Turkey Wreath.
Start by selecting vibrant tulle colors, cutting them into pieces, and knotting them on a foam wreath form. Layer the tulle to create a rich and colorful effect. To cover the styrofoam base, wrap it with black tulle and secure it with pins. Bring your turkey to life by adding a brown-painted styrofoam ball for the head, googly eyes, a yellow ribbon beak, and a red yarn wattle.
This budget-friendly wreath will brighten your home and leave a lasting impression this Thanksgiving.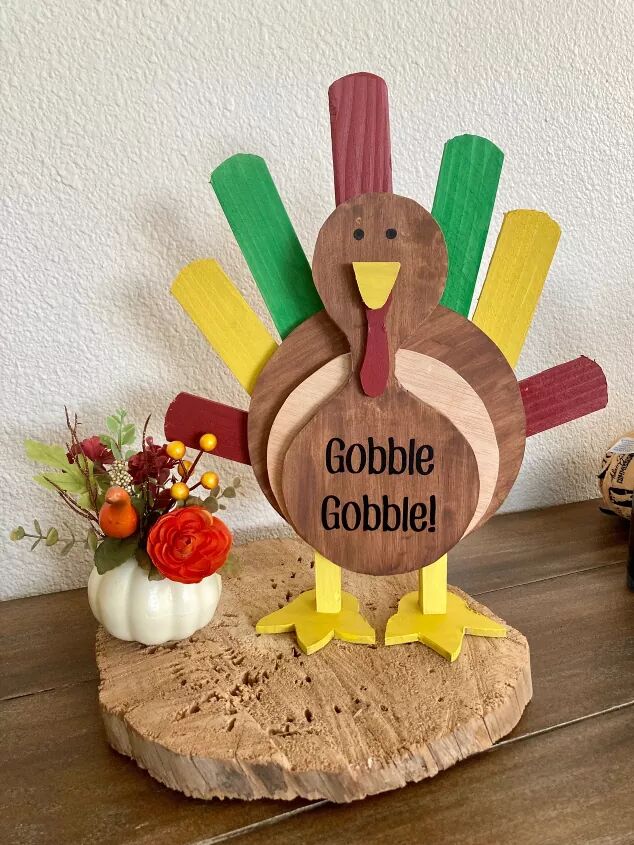 5. Build Your Own Turkey Decoration
Get ready for some crafting fun with the Thanksgiving Turkey by The Crafty Pumpkins!
Using cardstock for patterns, wooden pieces, and colorful paint, the project takes shape. You'll trace, cut, and paint each part, from the turkey's body to its feathers and even its charming beak and wattle. Then, with a bit of wood glue magic, you'll assemble the turkey, creating a delightful centerpiece for your holiday table.
Dive into this fun craft project and create a Thanksgiving turkey decoration that'll be the talk of the table.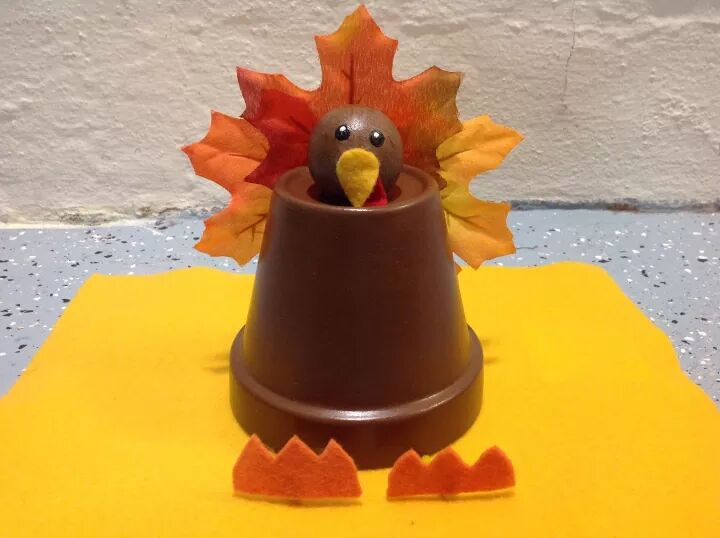 6. Add a Touch of Humor with a Tiny Turkey
Let's celebrate Thanksgiving in a cute and comical way with this Tiny Turkey Decoration by Tammy Spalsbury.
Inspired by a thrift store find, she put her own creative twist on it. This adorable turkey, made from a terracotta pot and wooden ball, is a delightful addition to your Thanksgiving decor. The brown paint and artificial leaves add character, and it's sure to bring smiles to your Turkey Day festivities.
This DIY is a reminder to be thankful for family and the simple joys of crafting.
Find inspiration for your Thanksgiving celebration
Thanksgiving Turkey Crafts
With these Thanksgiving Turkey Projects at your fingertips, you're all set to craft your way to a holiday filled with creativity and gratitude.
So, grab your supplies, get crafting, and don't forget to share your masterpieces and stories in the comments below!
Happy crafting and heartfelt celebrations await!
Enjoyed the project?
Published October 10th, 2023 9:16 AM
Popular Project Book
Popular DIY Questions