1.5K Views
6 Easy & Affordable Christmas Swag Ideas For Your Front Door
October 7th, 2023 11:03 AM
Get ready to decorate your home for Christmas without spending too much money! We've put together some easy and affordable DIY Christmas swag ideas for you.
Whether you like candy canes or natural outdoor decorations, there's something here for everyone. Follow along with these simple steps to make your own festive holiday decorations!
For even more ideas, see Hometalk's ultimate guide to DIY Christmas decor here.
Christmas swag ideas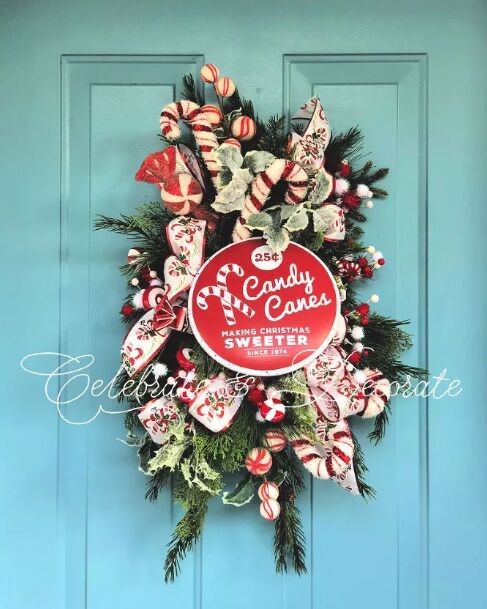 1. Candy cane swag
This project by Chloe Crabtree guides you on how to make a candy cane-themed Christmas swag using materials from Target's Bullseye's Playground. The base is created from a piece of styrofoam, with wire and buttons used to secure it.
Steel picks are added to artificial evergreens, building up the swag's shape. A sign is attached using wire and more greenery is added around it. Candy canes and peppermint ball picks are incorporated, along with ribbon loops for decoration.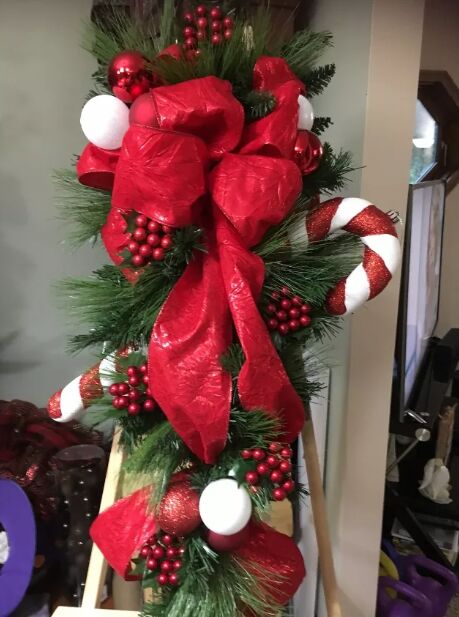 2. Peppermint teardrop swag
Create a stunning Christmas candy cane teardrop swag in less than 45 minutes with these easy steps by Michele Westlake Sigler.
Start with a pine teardrop swag and fluff the branches for a fuller, lifelike look. Choose your favorite ribbon or pre-made bow and secure it using the pine branches, making sure to have long ribbon tails. Position the bow to appear nestled within the swag.
Pinch and secure the ribbon at the bottom. Add a large candy cane behind the ribbon tails using hot glue and branch twists for stability. Attach shatterproof ornaments, pine sprays, and berry picks to fill gaps and add dimension.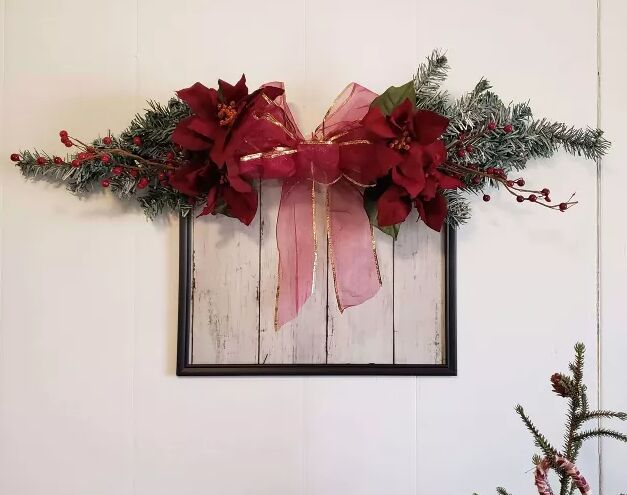 3. Bow-style Christmas swag
This DIY project by Michelle involves creating a Christmas swag using two mini Christmas trees from the Dollar Tree store. First, the tree branches are lightly spray-painted white to resemble snow.
Then, the trees are attached together using a cable tie. Pip berries and poinsettias are added using more cable ties. Finally, a bow made from Dollar Tree ribbon is placed at the center to hide the ties.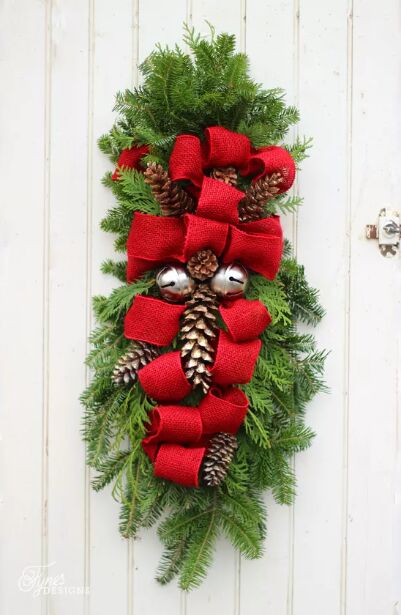 4. Pine swag
This project by Virginia Fynes shares how to make a natural Christmas swag for outdoor decorations. The process is simple, requiring a metal coat hanger, balsam fir branches, floral wire, ribbon, and decorative items.
The key is using a bent coat hanger for easy assembly. After gathering the materials, follow the step-by-step directions provided on the blog. The fun part is decorating the swag with natural elements like cedar, holly, pine, and pine cones.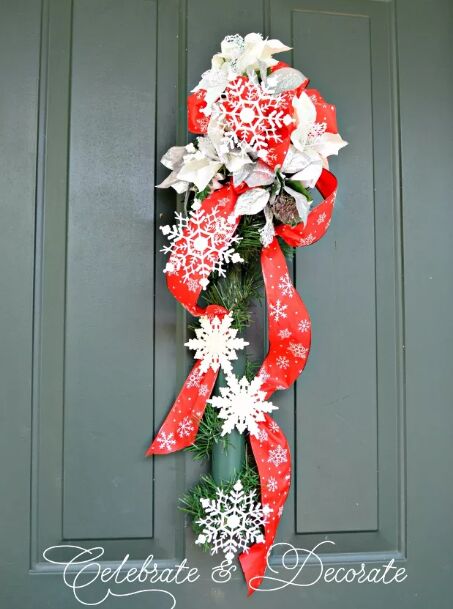 5. Snowflake swag
Chloe Crabtree's DIY snowflake swag project involves creating budget-friendly Christmas decorations using items from the dollar store.
Plastic bats are used as the base and painted green. Holes are drilled in the bats for assembly, and chicken wire covered with floral foam is attached to the handle.
Green faux garland is wrapped around the foam and secured with greening pins. Red mesh ribbon and unbreakable Christmas ornaments are added for decoration.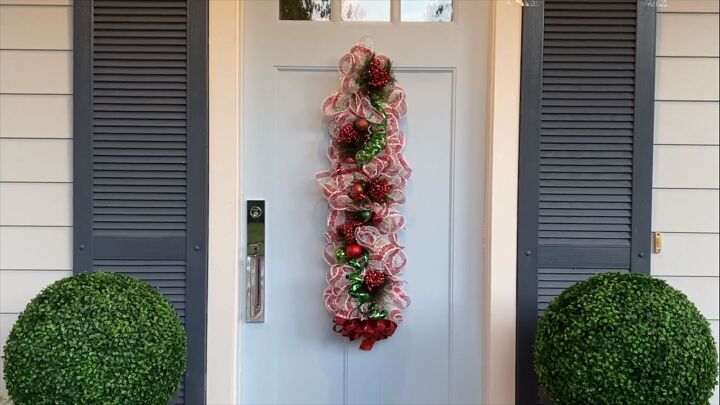 6. Deco mesh swag
Chloe Crabtree has another great DIY Christmas swag tutorial. This time, she guides you through making a festive Christmas swag using a yardstick, pipe cleaners, and creative touches.
The steps include tying pipe cleaners tightly around the yardstick, cutting and rolling deco mesh, creating and attaching deco mesh bows, adding Christmas picks and ornaments, and attaching a bow for decoration.
The finished swag can be hung using the yardstick's hole.
DIY Christmas wreath ideas
Christmas swag ideas
These DIY projects are a fun way to bring the festive spirit into your home. Which of these Christmas swag ideas will you be trying out this year? Let us know in the comments below.
Enjoyed the project?
Published October 6th, 2023 5:07 AM
Popular Project Book
Popular DIY Questions