923 Views
5 DIY Peppermint Christmas Decorations For a Candyland Theme
October 11th, 2023 10:45 AM
Introducing a delightful collection of DIY peppermint Christmas decorations! From cute candy cane centerpieces to festive swags and rustic peppermint sticks, these projects are sure to add a sweet touch to your holiday decor.
Each of these Candyland Christmas decor ideas comes with step-by-step instructions. So, whether you want to craft a gingerbread and peppermint garland or transform a tomato cage into a whimsical Christmas tree, these ideas offer a fun and budget-friendly way to decorate your home for the festive season.
Let's dive into the world of peppermint-inspired crafts!
For even more ideas, see Hometalk's ultimate guide to DIY Christmas decor here.
DIY peppermint Christmas decorations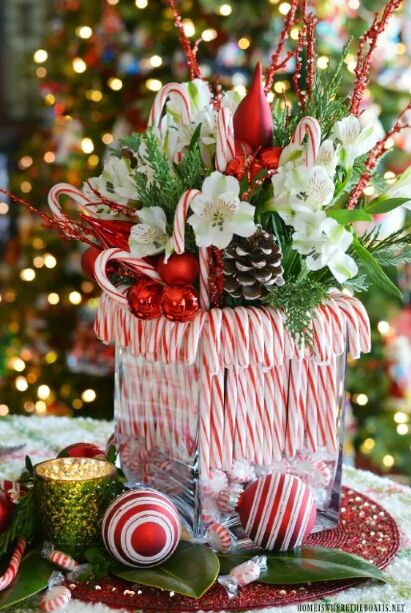 1. Candy cane vase centerpiece
Mary @ Home is Where the Boat Is shows us how to transform your holiday table with this easy candy cane vase centerpiece.
Start by securing a smaller vase inside a larger one, then fill the gap with decorative materials like candy canes and peppermint candies. Add your choice of flowers in the inner vase, and for an extra touch, wire pine cones to some candy canes for added interest.
2. Candy cane swag
Crafting a cute candy cane swag for your candy-themed Christmas is a breeze with this DIY by Chloe Crabtree.
Starting with a styrofoam base, wire it to create a hanging loop and hang it on a Command brand hook. Build up the swag with artificial evergreens, focusing on the edges.
Attach a festive sign securely, and adorn with candy canes and peppermint ball picks. Finally, add ribbon loops and tails for a lively touch.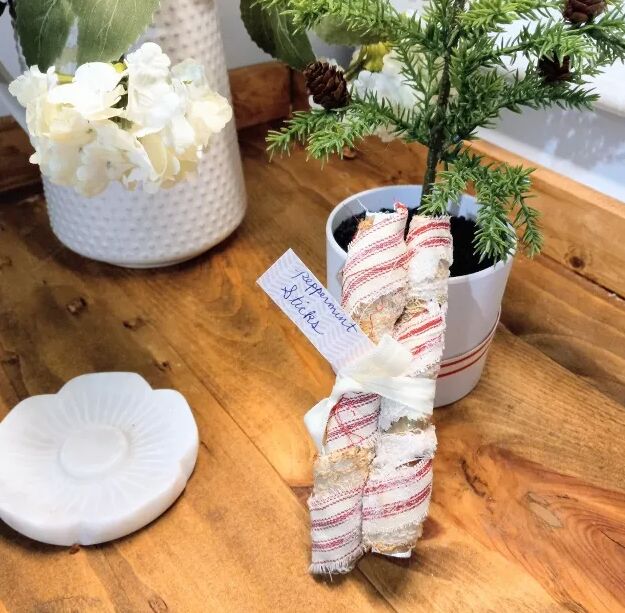 3. Peppermint stick decorations
Next, Corine Mapes- Junk to Gems shows us how to create DIY peppermint sticks to add a festive touch to your Christmas decor.
Using chenille cleaning cloths, rip them into strips for a rustic texture. Wrap these strips around six-inch wooden dowels, securing them with hot glue. Tea-dye the strips overnight for an antiqued effect. Add red and white homespun fabric strips as stripes.
Sprinkle glitter using spray adhesive for a sparkly finish. Finally, tie three pieces together with muslin and attach a "peppermint sticks" tag.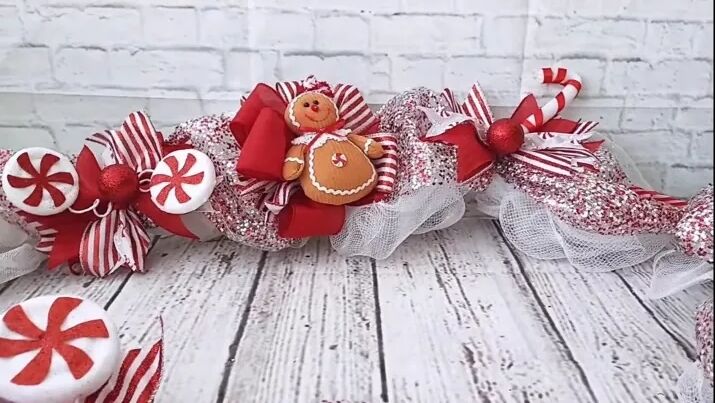 4. Gingerbread and peppermint garland
Create an adorable DIY gingerbread garland for a sweet holiday touch to your decor, following these instructions from Kiki DiY's. You'll need various ribbons, including two rolls of 2.5" ribbon and one roll of 1" ribbon.
Start by removing old pieces from a garland or gather white and sparkly mesh. Make loops with the mesh and secure them with zip ties. Cut ribbon for smaller bows and crisscross them to create a pattern. Make bows by pinching and securing them with zip ties.
Decorate with peppermint picks and add a central funky bow. Finish by assembling the garland, incorporating candy canes and bows. This DIY garland can be displayed on your mantle, cabinets, or windows.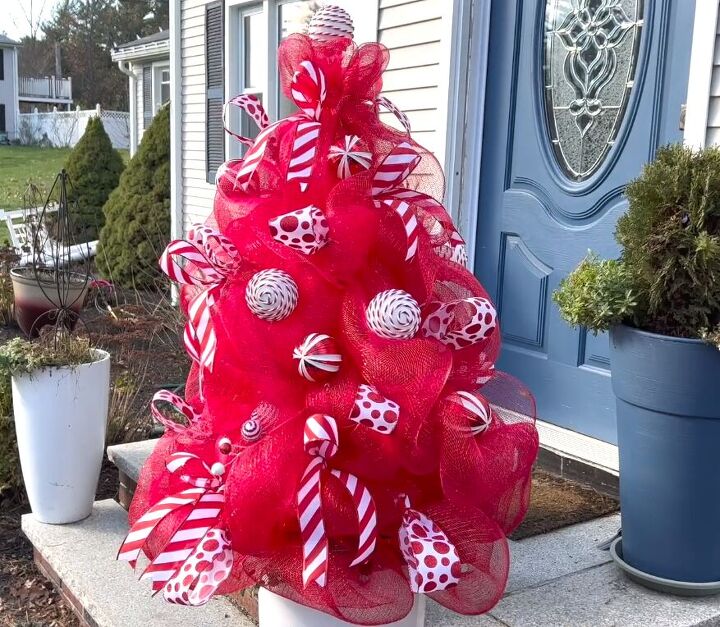 5. Peppermint Christmas tree
Nick Kreticos demonstrates how to turn a tomato cage into a Christmas tree. Secure the top with a zip tie to create a conical shape. Attach scrunched deco mesh using pipe cleaners, repeating the process for each layer.
Add bows with peppermint ribbon and secure with pipe cleaners. Apply ornaments by dipping them in hot glue and placing them sporadically. Use ornaments on sticks for easy insertion. Top the tree with an ornament.
Incorporate decorative sprays, peppermint candies, and single-loop ribbon pieces for a fuller look. Display your peppermint-themed tomato cage Christmas tree indoors or outdoors for a festive touch.
---
DIY peppermint Christmas decorations
Which of these DIY peppermint Christmas decorations will you be adding to your Candyland Christmas decor? Let us know in the comments below. Wishing you a season filled with joy, creativity, and sweet memories!
Enjoyed the project?
Published October 11th, 2023 7:28 AM
Popular Project Book
Popular DIY Questions