How to fix holes in these wood floors?



Answered
Hi! Love the ideas and resources here and I'm really hoping for some advice.
My husband and I have rented a old farmhouse. It's well over 100yrs. old and feeling it's age. The landlord has had very bad luck with tenants and unfortunately this once beautiful home is now very torn up. My parents were friends with the landlord's parents and I was at this house often when I was a child. It's a shame what it is now.
Anyway we were given the opportunity to rent this place for extremely, extremely low rent. We are losing our house to foreclosure and jumped at the chance to have this since our 3 kids won't have to change schools and we won't have to get rid of our pets. I HATE that we are losing our own home but unfortunately due to lay offs we had no health insurance and my husband suddenly had a tumor come up that was testicular cancer. We lost everything due to it. I am trying to make the best of things and make the best "new" home possible for our children but it's very hard with our limited finances. We barely have money for the paint we need.
So back to the floors. We have skids and skid tops, very good, non chemically treated pine that we can cover the floors with. We had planned to do that and I was either going to stain or paint them...whichever was the least expensive way to go. Now I'm wondering if we just can't patch these holes in the living room and paint the existing floor.

For the hole in the hallway we had planned to patch that all along as it's just one hole and there is already evidence of a hole that has been filled with something in the past. I just don't have any clue what to use to patch the holes! I've done lots of research but I'm still confused about what product to use that will be strong enough. I do not want to have to cut a larger hole unless we have no other choice. We already had to do that in the dining room and jack up/replace the beams and now will have to cover that whole floor with the pine wood we have. Due to time constraints I'm really hoping to just be able to patch and paint these floors.
What do you suggest I use for the easiest, most economical way to fix these?
Thanks! Sorry this got so long. Guess I felt the need to explain.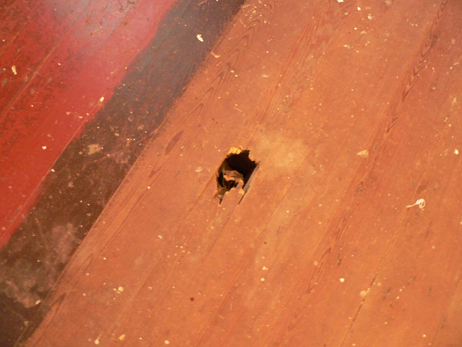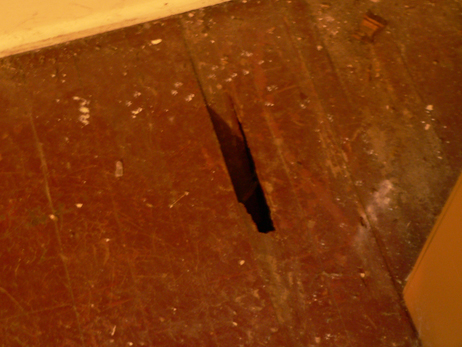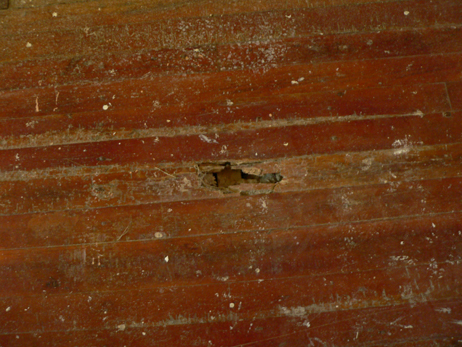 Jessica Hill
Answered on Nov 19, 2023
We seem to have some unwelcome Mickeys and Minnies in our house. What is the best way to get rid of them?

Abby
Answered on Aug 25, 2023
I want to remove my popcorn ceiling, but it has asbestos in it. How do I go about this safely?

Irv Pomeranz
Answered 4 hours ago
Does anyone know how to get rid of fruit flies with a homemade trap?

Abby
Answered on Oct 25, 2023
Is there a way to use a vacuum to remove a popcorn ceiling?

Mary-Ann Farr
Answered on Sep 28, 2023
How to fix a door frame with a split in it? Wre20798878
Answered on Nov 30, 2017
30 year old carpet and tack strips removed. Now foundation cracks in cement also holes from tack strips need fixed before peel n sick tile laid. What to use to corre... See more Tera
Answered on Jul 20, 2018
I've got an old pipe running through my closet/secret passage(yes, a secret passage with a revolving wall from I can only assume the late 1920s!)- it was cut off from... See more