I would like advice on what to use to replace cardboard ceiling tiles.



Answered
My house is a 113 yr old row house that originally had plaster ceilings. When water and electric were finally installed in the house, they made lots of holes in the old plaster for wiring and pipe runs. Then they attached furring strips to the ceiling and used the 12x12" cardboard tongue-in-groove ceiling tiles that staple to the wooden strips as a "drop" ceiling. I hate it, and when they get wet, they swell and have to be replaced. I would like to replace them in my bedroom where several have been damaged by roof leaks (now fixed by new roof) by something completely different/unique. Does anyone have any ideas?
Related Discussions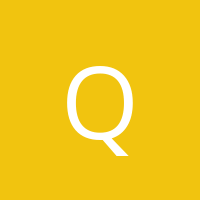 Quilter2
on Sep 18, 2017
Does having a paint over a popcorn ceiling change how I'd remove the popcorn ceiling?

Susan-Amber Springer
on Mar 24, 2015
Has anyone used paneling or appropriate flooring on a ceiling? After a plumbing disaster upstairs, we had to remove our plaster and lathe dining room ceiling in our... See more

Stephanie Minkus
on Dec 07, 2016
I'd love to put crown molding up (after I paint the walls and the shelves above the fireplace, previous owners painted EVERYTHING the same yellowish cream color). But... See more

Shannon McFarling
on Nov 20, 2014
How remove popcorn ceiling/walls? Do I have to drywall over everything? It was done to hide cracks from an old home.
Rhoda V
on Jul 08, 2012
I'm renovating a 1979 fixer upper and have a dropped ceiling in the downstairs den. The tiles are probably original and I will eventually replace them with something... See more

Gay Storm
on Aug 16, 2013
I have a ceiling fan in my mobile home that is 4-1/2 years old. It was professionally installed. Lately, it has started to wobble a lot when it is on, especially at l... See more

Debby
on Apr 22, 2015
I didn't want skylights anymore, so asked that they be dry walled, textured and painted over to look like the rest of the ceiling. This is what I got. He is supposed ... See more