 Answered
I would like to plant mondo grass in a very large section of our front lawn as a way to shape the grass and create a nice landscape. Would buying such a large amount of mondo grass be expensive? Would I have to plant the mondo grass very close together in order to achieve a lawn-type look, or could I plant them separately, maybe six inches or so apart, and let them "grow in"? The effect I would like is similar to this picture.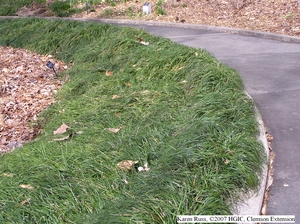 Related Discussions

Abby
on Nov 29, 2021
How to grow ginger in water? Jim Price
on May 18, 2016
I am a small vineyard owner trying to find a grass killer that won't kill my grape plant roots. Please note it is only grass I am dealing with. Can you advise?

Lillian Venktess
on Nov 05, 2019 Ryan
on Mar 13, 2015
Hi I would like to know how to kill grass in flower beds without harming the plants. The plants are perennial and the grass is pasture.

Ann Thomas Hawley
on Jun 26, 2018

Asha Ravada
on Jul 05, 2015
This is a new house and so the side yard was initially a lawn. I prefer to grow flowers (attract bees) instead of a lawn, so based on articles I read about lasagna ... See more Matia
on Mar 28, 2017