What's happening to my pothos plant? Answered
I've had this plant for about a year and he's been happy and healthy sitting in a window that gets sunlight for a few hours in the afternoon. But recently he's been getting some yellow leaves and some spots.
The soil had seemed too wet a few weeks ago so I waited for it to dry up and now I've just watered it again.
The affected leaves feel thinner and the yellowing leaves are falling off. It started about two months ago- just as yellowing leaves here and there- now it's much more yellow, and has those spots on it.
help!!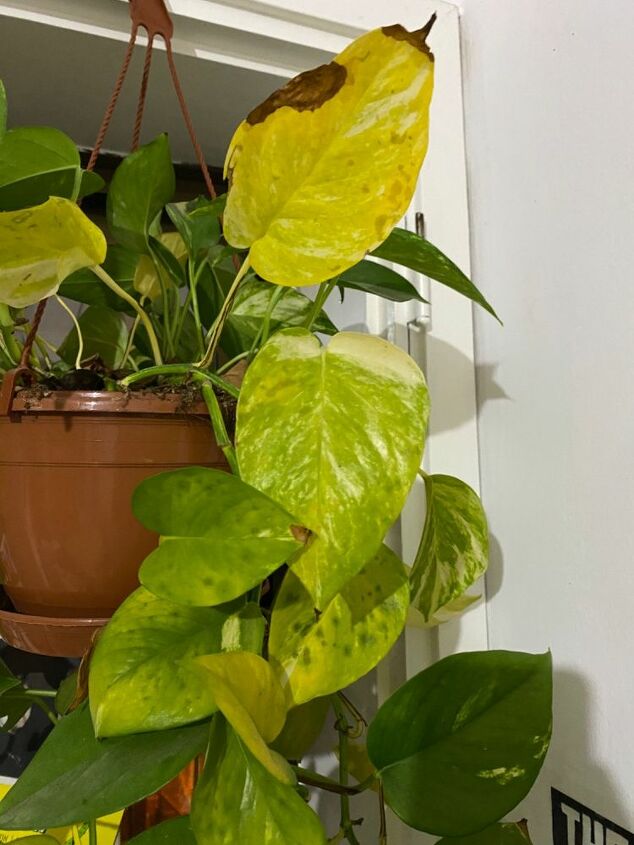 Related Discussions

Abby
on Nov 29, 2021
How to grow ginger in water? Pravamshi
on Aug 12, 2020
Can anyone please tell what is happening with my tree peony plant. Leaves are turning brown at the ends and no new growth at all. This one I bought it in the June and... See more

Sandra Baird
on Jun 08, 2017
Every year I plant parsley and cilantro and something eats off the leaves. I have tried planting them in different areas each and the same problem exists. What can ... See more Nancy
on Dec 17, 2017
I brought my Gardenia & Hibiscus plants in for the winter in NY. They are in a sunroom that has No heat . Aside from an electric heater, what can I make to keep them ... See more

Angela A
on Mar 11, 2015
I was getting ready to split and pot up this houseplant (sorry can't remember the name) when I noticed all these little white-ish spots in the dirt around the roots..... See more

Sunush
on Sep 16, 2014
This one is growing under the tomato plants. So far there have been no flowers. Can someone identify this plant?

Brianna Ring
on Jun 01, 2018
My thyme started getting these brown/Black dots all over all the leaves. The whole plant is affected. Can it be saved? Is it safe to eat?