Can I build around an exposed gas pipe? Answered
to the left of pipe is the only space to put a stove. and to the right of the pipe I will put a refrigerator. any ideas on how to hide the pipe?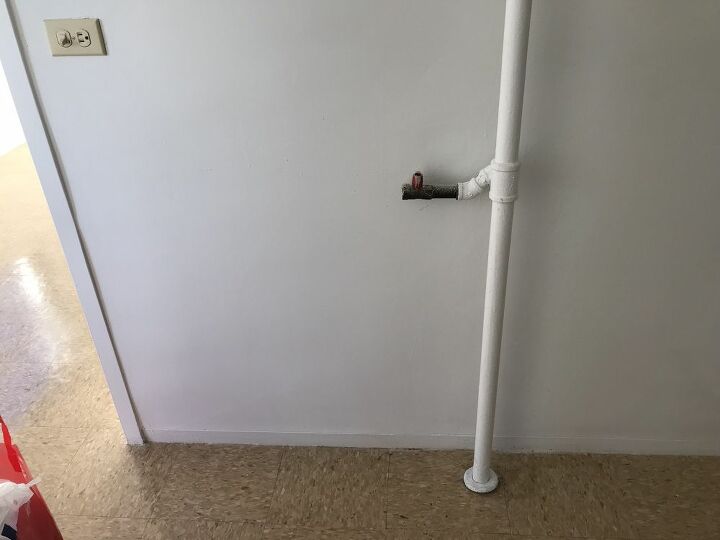 Related Discussions

Carolin Mancebo
on Aug 24, 2018
Hello, I live in an affordable housing. My kitchen is a good size kitchen but storage is a HUGE issue. The gas pipe is outside of the wall, right behind the stove and... See more Kathy Wilson
on Jan 30, 2014
We took the old popcorn ceiling off in our livingroom and thought we could just paint it. We fixed some hairline cracks where the joint in the sheetrock are, primed a... See more

Wendy Kennett
on Mar 14, 2019
Does anyone know of a new kitchen faucet that would fit as a replacement for my 80 year old Crane faucet, preferably a reasonably priced one? It is a slant back fau... See more

Renee Collier
on Jun 06, 2019
I'm wanting to paint my cabinets and redo the counter tops and back splash, but first I need to make this hole into a useful storage space.

Bonnie
on Oct 27, 2018
I literally don't have quite 3 feet room between fridge and stove.. counter depth fridges are expensive but I'm thinking of going smaller.. freezer on top kind an... See more TER
on Mar 07, 2020

Michelle Nendza
on Aug 30, 2018
I bought my home 5yrs ago, since money was tight after purchase, I kept appliances that came w the home, as kitchen was beautiful besides appliances. When I'm startin... See more