Related Discussions
Emiluz Biehls
on Sep 26, 2019
My kitchen counter are not shiny anymore, it has a rough, dry and dull look specially next to stove that's where I clean the most because I fry so much. Mary
on Mar 14, 2020
Purchased a new sink drain and stopper. The part where the stopper fits into is white plastic. It is stained from tea, spaghetti sauce etc. I have tried full strength... See more 1cs1267
on Jan 13, 2021
I am a senior, remodeling my kitchen myself. My countertops will remain the same, laminate in beiges and grays. I painted my lower cabinets the same gray in the cou... See more
Mary
on Dec 29, 2020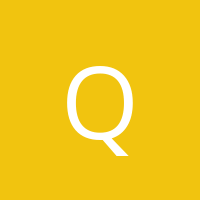 Qae8119163
on Aug 06, 2018
I'm a renter who loves to cook - cookies, cakes, preserves, jams, jellies, and anything with cocoa/chocolate - unfortunately in my apartment there's no place for all ... See more MSPS
on Nov 30, 2020

Denise Abbott
on Nov 29, 2020
What to use to remove dried spray tacky Glue from laminated kitchen counter top.