Related Discussions Jessica
on Jul 28, 2021
I have a 9 year old playground set. I replaced some rotten wood and termite damage wood, pressure washed and stain/seal the playground set. How can I protected the wo... See more
E.C. P
on Oct 20, 2020
Small insects are making holes in the rafters in my outdoor tool shed. The dust is visible below the holes. What are the insects and what is an effective treatment?ec... See more
Renda Walters
on Jul 19, 2020

Debra Kawaller
on Dec 15, 2018
I have a problem with spiders and their webs in my cottage. Anyone have a remedy? Kathi Scarpulla
on Oct 19, 2018
I recently moved into an older home and after just a few days I suddenly had fruit like flies in the kitchen with no fruit in the house, how can i vet rid of them, ... See more Louise Gray
on Sep 22, 2015
We are finding small black ants on our counter every morning, they have no trail, just seem to appear out of nowhere. I've put cotton balls around with oil of pepperm... See more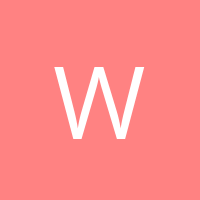 Work4Liberty
on Feb 01, 2018
Air filters may reduce some dangerous indoor air pollution, like from dust, molds, and volatile chemicals, but what else would help a lot?