Related Discussions

Albert Wall
on May 03, 2019
I need to paint my bathroom cabinet doors. The finish seems glossy and slick! My husband thinks it is a white enamel gloss. Suggest the paint I need to use!
Diana Wood Hobbs
on Aug 27, 2018
Sandi Willson
on Nov 25, 2018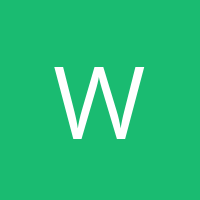 Winnie Anderegg
on Nov 09, 2018
One of the bedrooms was the previous owners home office and it was paneled. I want to make it look like a bedroom again. I can't remove the paneling without ruining... See more

Patrick de Schepper
on Feb 06, 2018
I would like to try to paint non-paintable silicone. Is there a possibility? Dei26227695
on Jun 17, 2018
I just sanded dark stain off a hardwood floor. As I sanded, I saw why it had been stained so dark - the floor was covered with these little circles scratched into the... See more
Judy Hart
on Mar 27, 2018
We recently painted our family room a different color. The details of our picture on the mantle have the new accent color I am looking for put the matting does not ma... See more