How do you generate new and creative DIY ideas?


Answered
I was reading a great book on creativity called Thinkertoys by Michael Michalko, and I came up with my own aid for generating new ideas for my projects. I guess you would call it an acrostic.
Combine, Replace, Adapt, Find other uses, Time travel, Eliminate, Rearrange, Size. I try to apply these different operations to existing projects and come up with new variations.
What are some ways you like to generate new ideas for you DIY projects?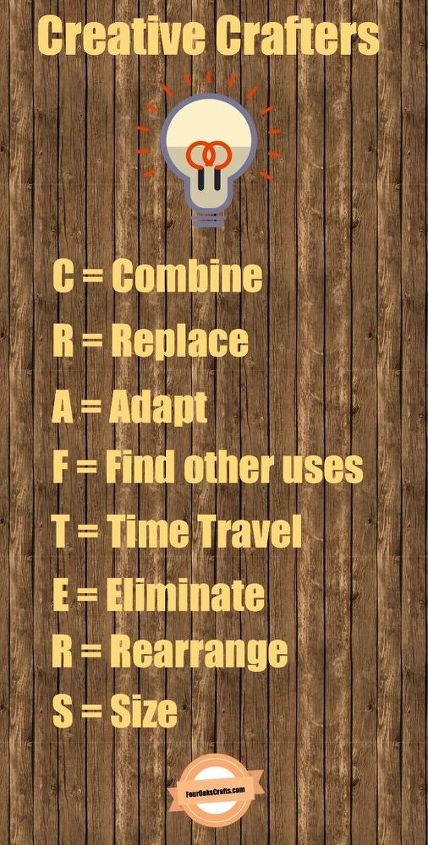 Related Discussions
Stephen Davies
on Feb 25, 2020 Theresa
on Mar 29, 2017
Is there a printable version of this? I'd love to have them all in one place. What do you all do? Christy Zeller
on Apr 26, 2018 Cindy
on Apr 01, 2017
When I see a great idea and click on it, I can't find it later

Fusion Mineral Paint
on Feb 28, 2017
Hi everyone - Jennylyn here from the Fusion™ Mineral Paint team! We create easy to use furniture paint and decorative accessories for you to paint it beautiful for... See more

Sunny C
on Sep 09, 2017
PLEASE PRAY for Everyone in the State of Florida. I have two block/brick homes, and many trees. I was born in FL & this Hurricane is going to destroy & will level hom... See more

Jewellmartin
on Jun 21, 2017
If you could have one flowering bush or plant, outside or as a houseplant, what would it be?