How do I apply a peel & stick vinyl tile to a glass tile backsplash? Answered
I am using STAINMASTER Charlotte 1-piece 9-in x 9-in Groutable Black and White Peel and Stick Vinyl Tiles to cover a backsplash in my kitchen. I notice they are not adhering to the glass tile backsplash too easily. I read online with the peel & stick tiles, I could not use an extra adhesive product. I cleaned the tile really good before applying the tiles also. I am now applying one tile a day peeling off backing then use a hair dryer to heat the back of tile sticky part then apply to wall. It sticks! Then I use a filled water bottle & place it against tile so it does not fall off wall. My question is: Is there another way? I was thinking of NOT peeling the back of tile, keeping paper intact, then using an adhesive product. Do you think that is a better solution? Any suggestions are welcome! Thank you!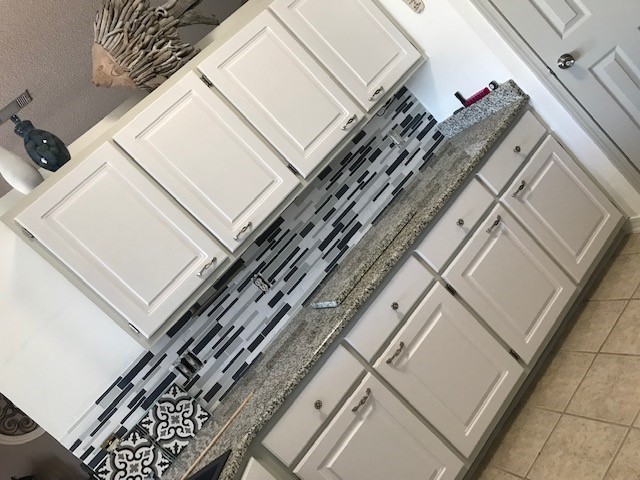 Related Discussions

Linda Sears
on Jan 26, 2019

Barb Brandel
on Aug 13, 2018 Jochelyn
on May 03, 2018
My kitchen backsplash have the original tiles on but I want to change the color without having to tore down the old tiles. I really like the stick on ones that look ... See more Jenni
on Jan 09, 2019
I'd like to update my BS. It's cutrently tiled, travertine I believe. How can I update this without removing the existing? My cabinets are honey color and the wal... See more

Sabrina West
on Sep 28, 2018 Barb
on Jul 04, 2018 Lynn
on Jun 22, 2018
Looking at backsplash tiles. How do you end if they have irregular edges?