Need creative advice on redoing this old dresser



Answered
My husband has this old 4-drawer dresser left over from his junior high era and it's definitely seen better days!!! The pull handles are mismatched, several are broken and don't have any pulls (I unscrewed the missing one to measure it), and I'm not crazy about the color of the whole piece. We'd like to paint this white and replace the drawer pulls/handles to use in my 5 yr old daughter's room. However, the distance between the holes on the current drawer pulls measure 2 5/8" and I'm having trouble finding a replacement that would look cute in her room without spending a fortune. I wish I could even just paint these ugly drawer pulls, but like I said, they don't match and 2 are broken, so that's not even an option. I already have some paint, so I need creative and thrifty ideas on how to finish out this piece on a dime! :) Thanks!!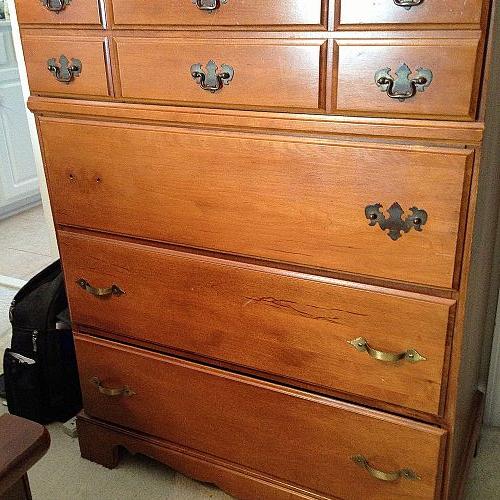 Carla Harris Bourg
Answered on Aug 23, 2023
I do volunteer work for the Salvation Army and we get tons of earrings and so many do not have matches. Does anyone have any ideas on crafts that we could do to repur... See more

Jodi
Answered on Aug 22, 2023
I have several that we use for pop cans to be crushed and tools I have hidden in a closet. What other uses can people come up with? I'm winding up with lots of these ... See more

Lynnette
Answered on Sep 25, 2023
I've been hanging on to these huge 2 quart pickle jars FOREVER. They're taking up ALOT of real estate in my kitchen cabinet. Since my creativity has gone kapoot I nee... See more

Michele Vargo
Answered on Oct 30, 2023
I have my mothers old wedding gown. I can't bring myself to get rid of it because it meant a lot to her. What can I do with it? Is there someone I could take it to... See more

Jerri M
Answered on Aug 01, 2023
A customer where I worked refused the offer of a coffee cup carrier because she had enough in her car and she hadn't seen anything on Pinterest to craft them into som... See more Marie
Answered on Feb 05, 2023
I have about 200 empty powder drink containers with lids. there are 4 different shapes from different brands. Looking for ideas to repurpose.

PruBelle
Answered on Nov 15, 2016
I have 8 of these trashcans left over from tradeshows we no longer attend. I used 2 of them to store wrapping paper. I hate to just throw away the others. I thou... See more