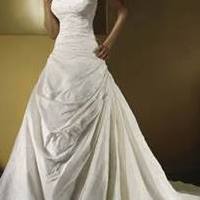 Margaret Powell
About meI am owner and operator of a home based alteration/sewing shop.
I have enjoyed sewing since I was a young girl. I remember sitting on the treadle plate of my mother's sewing machine. I began sewing by having mother cut out and pin doll clothes for me to hand sew. I bought my first sewing machine when I got my first job in high school and mother allowed my to use her treadle machine as a trade in for my machine. I have sewn just about everything imaginable. Coats, hats, slacks, men's pants and suit jackets, all my 4 daughter's clothing from infancy thru weddings and all the inbetween!
I now do basically only alterations as well as teach sewing classes from my home. I do just about any alteration you may need.
Bridal is my specialty but nothing is out of the question. If you need something altered, then just let me hear from you.
If you have a sewing question, maybe I can help you there too.
I have sewn for over 65 years and have tried many hacks and many things thought impossible.
I also have gardened for about 65 years since I grew up on a farm and always helped in the garden harvesting. I have read so many gardening articles over the years that there is hardly a topic that does not interest me. I never get tired of sharing in these areas and hearing other's experiences. Do let me hear from you.