Hello, I'm replacing the windows on the front of my house with some nicer ones...I'm in love with black window panes and the shutters will be black as well...but what about the window boxes? I think black would work on a bigger house, but on my small house I think I need to go with white...any thoughts?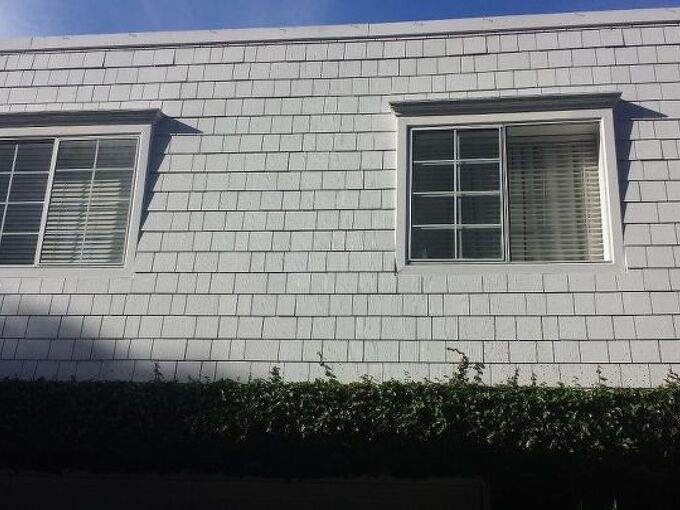 We had to replace cedarwood shingles a couple years ago...we haven't replaced the shutters or window boxes yet, ( there used to be eyelids too).
Finally getting around to putting things in place.
I was thinking of making Board and Batten working shutters, but shutters that wide would look bad. Do they ever bifold them? And what about window boxes? Can't see how the two would be possible.
I'd rather have ornamental shutters and window boxes I think.
Another question, If I can ever afford awnings...originally I was thinking of dome shape, to counteract the flat roof, but then I saw some concave ones, and fell in love with them...I plan on black and white striped fabric, the shutters will be black like my front door...with all of that going on, shouldn't the window boxes be white? At first I was thinking black, but now idk...I plan on putting magenta Bougainville in the boxes...
Btw, my color choices are set, the only thing I might change if if I can convince my husband to make copper eyelids for the windows!
Thanks for your input.
So, an inventor friend of ours passed away, he had ordered dozens of boxes of small lead balls from China, for something he was working on. ...the invention never came to be...my husband and I are helping his widow clear out her garage, and instead of throwing them away, I brought them home, because that's how I roll... (pun, get it, balls...roll....) anywho.....I was thinking of putting down landscape fabric, and using them instead of decorative rocks...in a raised planter, and nothing will be eaten from this planter, so I'm not worried about lead poisening...
I called a local shooting range, they aren't interested.
Can anyone think of what these could be used for?
I dismantled a rotted wiskey barrell...I'd like to find a use for the three metal rings that were around it...any ideas?
Hello, you're all so awesome here, someone is bound to have my answer!
A few years back, we installed hardwood floors upstairs. I painted them white, (don't be faint, we live by the beach, and I love the look...) When I went to Hdepot to get the porch and floor paint, the sales girl said she had just finished a training class, and recommended a water based sealer for the paint, to help resist scuffs. The paint was Dutch Boy...and I can't believe I can't put my hands on the sealer, because I save Everything. ...and I highly doubt I used it all...
So I'm in the middle of a huge mess right now, I repainted the floors this summer, thinking I wouldn't need to.sand and prime because of all the wear and tear we have caused walking on it all the's years....Wrong! A week later, the paint started to peel in sheets!
So now, I'm done sanding, I plan on priming this time...and H depot doesn't sell Dutch Boy anymore...and of course no one at the store knows anything about using a sealer indoors. I have also checked with other paint stores and manufacturers. ..no one recommends sealing the floor...but it worked so well...repelling dirt stains, I really want to....any ideas?
Also, I'm planning on painting the doors/trims with the same floor paint, thinking it will be more durable than regular trim paint, and I won't have to bother with masking....and yes, I have stripped, sanded and primed!
My goal was to have all of my moldings/doors/frames match. The existing color I used was a blend of ebony/cherry, because the standard mahogany color just wasn't dark, or red enough for me.
So my husband scored these awesome french doors, and we were able to replace an enormous sliding glass door with them. The only problem is, he didn't realize I was going to restain the dark walnut color of the doors, and the new frame for the doors to match our existing wood...one day when I was away, he decided to "help me", and he primed the door frames white! I could have cried...I can do a lot, but I know my limits, and I'm no good at faux painting : ( This wall of windows has sat like this for years, and it looks so unfinished. I'm tempted right now to paint the wall of french doors and frames black. What do you think? Can you mix wood colors like this? They won't be right next to each other, but it is an open floor plan in a smaller room. I would add a pic, but it won't post.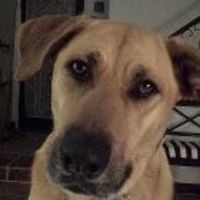 Jeannette