Has anyone removed an entryway closet to make a larger entryway? My front door opens right into a closet and it's a tiny, congested area. I feel like if I remove the closet (like REMOVE REMOVE IT, not just take the closet door off!), it'll make my entryway and entire living room bigger and more open. Suggestions, photos? The closest pic I can find of what I'm looking for is this here. Thanks
I'm considering painting my kitchen floor. It's currently a "luxury vinyl tile" floor (but seriously ugly). Please tell me all about the best products and techniques out there!!! Pictures are good too!
I moved. At our last house we hung lights above our patio, I want to do it again but this time our set up is so different. We kinda have a cove like area (out some French doors) that leads out to a cobble stone path that takes you to the gate. If you have a cute or unique set up with fun outdoor lights, please point me to a picture!!! Note that it gets windy here, so I definitely need a thick sturdy, taunt wire to hang them along (and we have the hanging outdoor lights from Costco).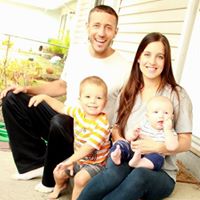 Holly Petersen Bingeman