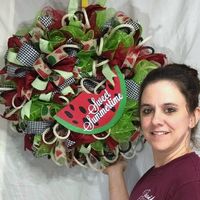 Debi's Wreaths and Things
About meHey Y'all
My name is Debi and I started this wreath journey in 2012. My sister was pregnant with my nephew and my mom and I wanted to make sure she had a wreath for the hospital door. Being the creative person I am, I decided I would make it. I was hooked on making wreaths after that.
​
I love making mesh, floral, burlap, or any type of wreath. I love helping people learn to make wreaths, and I LOVE talking with people about wreaths in general.I also make other crafty things such as flower arrangements, lantern swags, birdcage swags, wood cutouts and paintings, and of course vinyl lettering.
​
I have learned that after a lot of time spent search YouTube and google, there has to be a better way of learning. I wanted to reach out to others without them having to do all the searching that I've done. I decided it was time to expand my business and begin teaching the craft that I love so dearly. Now I offer an online class through a page on FaceBook. I dedicate a lot of time to this group and I show how you can make lovely wreaths. I am constantly learning more from others in the business as well as on the outside so that I can teach everyone who comes in to my group more.