I'm trying to make matching candlestick holders with my center piece. I read that i could use Mod Podge and Epson salt. I tested it out on a wine glass of mine but I find it to bumpy and salt will flake off when touched. Maybe I can grind the salt down some and use a clear coat spray paint?? Would greatly appreciate any input! Thanks!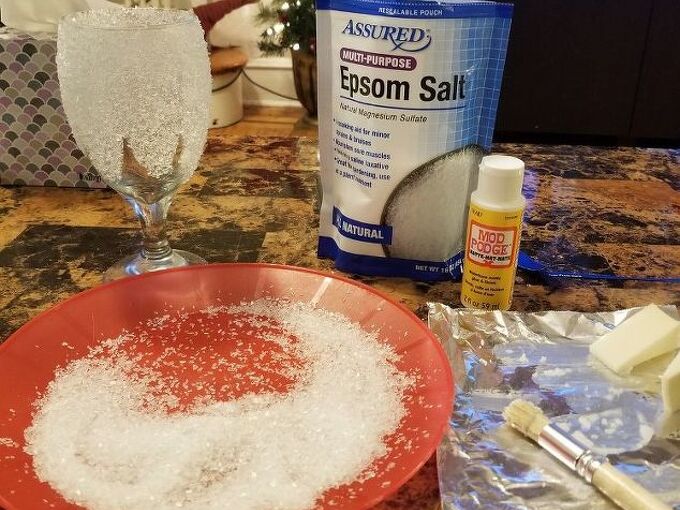 here's what it looks like where the finish is all spotted
I was looking for someway to fill a wall space in my livingroom. I found this idea in a magazine and loved it but knew I couldn't afford the price they wanted. So, one day while shopping in the dollar store I found these mirrors and decided I would make my own version. the results are as follows:
Today's your lucky day! It's Throwback Thursday! We want to see pictures of your memorable St Patrick's day Decor! Dig up old photos and share them on the DIY forum, Discussions. Share and discuss your DIY memories! Include "Throwback Thursday" in your title! Looking forward!Community @ Hometalk
Ok Hometalkers, I really need your help with this one! I've been staring at this empty grey wall in my bedroom for literally MONTHS, and it's time to do something about it. I feel like there are so many possibilities that I just can't come to a decision. Different things I was thinking I'd like to display are inspirational quotes, a nature scene, my old photos.. but I'm really open to anything! Thanks in advance!
I have 3 sets of windows configured like this...very drafty, How to you winterize them? There is nothing in the corner to stick tape to. Thank you
This is wallpaper at a hotel, and I'd really like to replicate this textured effect on one wall in my room at home, perhaps with different colors. Any suggestions in terms of method? Once I have the background color, what would be the best way to get that textured effect in a similar shape?Thank you, lovely Hometalkers! BC.