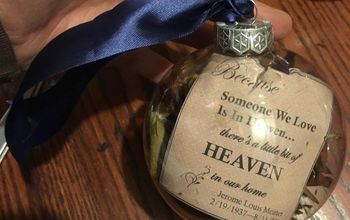 First, let me say, "Not my idea at all."While at the funeral home helping my Mom with the arrangements for my Dad, she noticed some candles, which were very nice, made from the flowers sent as memorials for the ceremony.Mom wanted to have a use for the flowers that people sent and suggested the candles. They looked fine, supposedly lasted forever and I thought about it. I could see the candle stored on a basement shelf in a few years. I didn't feel the $100 price tag for each candle was a good use of funeral dollars so I declined her offer--as did my other siblings.I told Mom I would find a better use for the flowers no one took after the ceremony and so, when I got home, I looked on Pintrest and found about a dozen ideas yet only one inspired me. I'm not one for having a lot of stuff to dust around so a picture frame or a dried arrangement, though beautiful ideas, wasn't anything I wanted to make.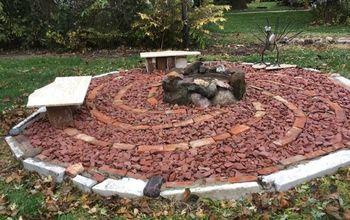 My husband and I purchased a house for nine thousand dollars from my Great-Grandfather's estate way back in 1988 (that rhymes! Who knew!) We've been plugging money into it ever since. At first it was to keep a roof over the heads of our four great kids but now it's a labor of love. I like to up-cycle, reuse, convert, buy-sell-trade, craigslist, free or nearly free-anything to save a buck. My advice is, if you buy anything online, check rebate sites—ebates, honey, retailmenot-I'm sure there's more. Using end of the season sales, rebate sites, free ship and no-interest financing is a big money saver. A couple years back on a store card I bought a $1200 outdoor table big enough to hold my grown kids and their families, for around $400. So, my backyard….Its small. It's drab. Thank goodness my kids grew up on a block where they had neighbors with kid friendly backyards because ours wasn't that place. The outside table was one thing off the list but the rest of my backyard project? What to do?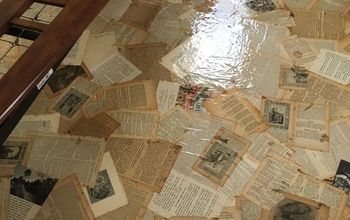 I've hung on to some family books for years because I just couldn't toss them. I wanted to put my ancestors' books to use in my 120 year old house that's been in my family for FOUR generations. Every time I cleaned I wanted to toss the books but I just moved them from place to place waiting for the perfect project. Some are in Czech brought over the years by visiting relatives. Some were my grandpa's when he was a kid and sick with polio in this very house. Luckily he survived and that's how I got here! I investigated the value of each book, some were pretty beat up, before I put them to use just to be sure I wasn't destroying a masterpiece. My advice if you do this is, make sure the value of the book under-weighs the need for a new floor.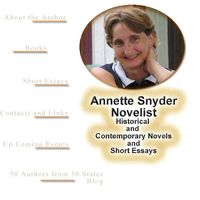 Annette
About meI'm mom, a writer, an amateur home remodel girl, a full-time landfill worker, a part-time fish fryer at a local bar and a lover of all things old and reuse