Changing table repurposing Answered
I got this changing table and wanted to make it into a buffet for my dining room. Saw a great technique that makes it look metal and then glazed for antiquing. Has anyone every tried this? How difficult is it to do? It would be the focal point of the dining room.
Thanks,
Liza Anderson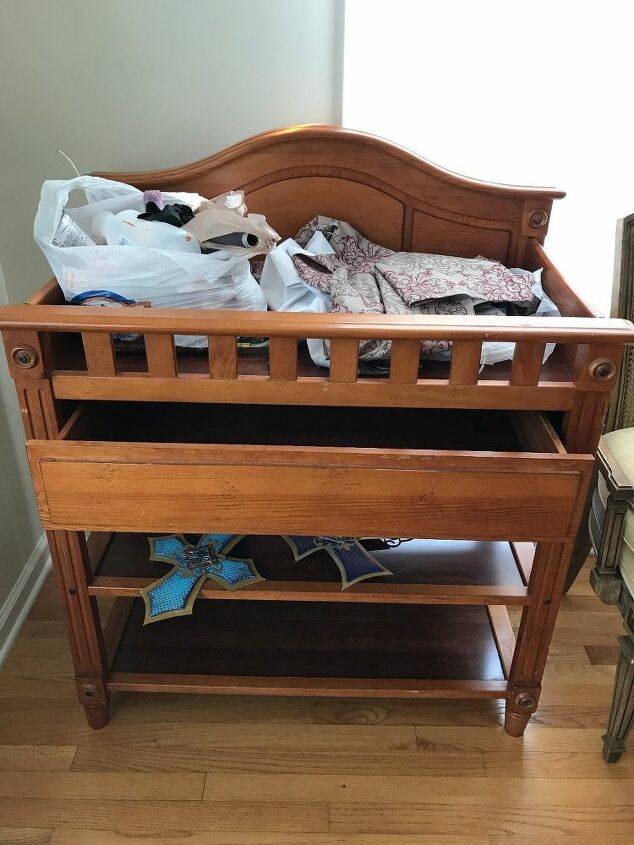 Related Discussions

Porta Verde Studio
on Nov 06, 2013
We have distressed, stained and used poly on this antique trunk and then added legs. The paper was stripped from the interior and then lightly sanded, stained and cle... See more

Liz
on Jan 17, 2016
I'm trying to figure out a way to attach a pillow to a trunk to make it a bench. Any suggestions?

CoCo
on Apr 11, 2016
I recently priced microwave stands and was horrified. Our microwave is currently on the counter and taking up a third of the space available. I have a cute niche per... See more

Toshiba
on Jul 11, 2015
I found this 1970s waterbed headboard at a flea market and want to repurpose it as a hallway entry table. The height and width are perfect, and it is heavy solid wood... See more

Margaret Senn
on Jan 07, 2015
I have an old metal trunk that I want to upcycle to a coffee table. I plan to add small wheels, but was not sure how to paint the outside or re-do the inside. It has ... See more Pgibson0
on Jan 29, 2017
My grandmother passed away last June. I have inherited a few pieces of furniture from her, including anew antique makeup vanity. I would like to use it as a desk, but... See more

Jessica Hill
on Aug 02, 2013
I am turning the sides of an old wooden crate into a coffee table top. The wood is similar to pallet wood: unfinished and prone to giving splinters. How might I go ab... See more