How to refinish this into a bathroom sink vanity? Answered
found this at a refind store, thinking of making it into a bathroom vanity and putting in a sink. Any idea how to finish this? Wood, mirror and marble tops (3)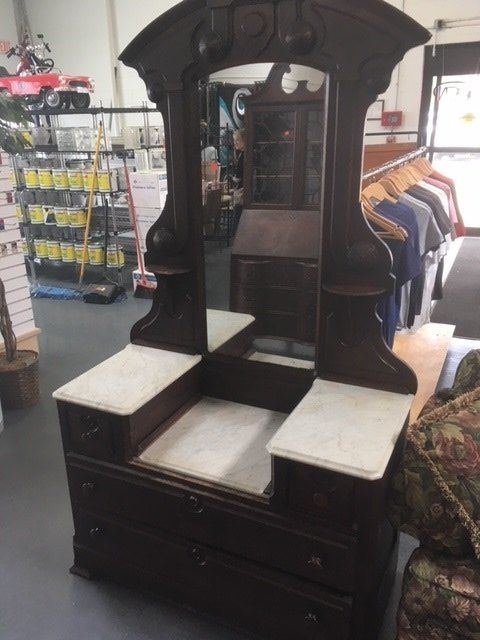 Related Discussions

Jill Glover
on Apr 30, 2017
I have a small round table and want to make it into an outside coffee table Anna
on Feb 02, 2021
This accent wall was done by the previous owners, by hand. I would really like to update it, maybe paint it. Possibly a charcoal color? What are your thoughts? Pam
on May 05, 2019
We are installing a new bathroom vanity in our half bath. The walls are not square so it doesn't fit snug. I am worried about water and the gap. Any ideas?

Patty Gill Shaver
on Aug 17, 2019
I need a 15 inch or less depth bathroom vanity. Would prefer it be 36 to 48 inches wide with storage. I've looked everywhere. Any ideas? Jrh48681363
on Feb 01, 2020 Mer33151453
on Sep 19, 2018
Hello i would appreciate yogur help, my attic bathroom hace the shower in the higest part, next os the sink and opposite is the bath. I need a new plug in the lowest ... See more
Laurie
on Jan 03, 2020
I want to hang a poster in the bathroom, but I don't know what to seal it with to make sure the humidity/water does not ruin it. Any suggestions?