Renovating Bathroom - turning a dresser into a Vanity



Answered
Hello guys!!! Just after a bit of advice. I have a SMALL bathroom (2.3x2.3) QLDer type home here in Australia. I'm wanting to stick with the "heritage" style, so I've decided to make the vanity out of an old cupboard. I've been searching for the "right one" and over here where I live, these are limited (without paying hundreds of dollars - a lot of people nowadays do not just throw out, but try to sell). I've located 2 so far, ready to be stripped back etc (so may have varnished or repainted - not sure yet - what would you require to make it WATERPROOF as such?). Just wanting some advice on the Plumbing side of things too - how easy to connect the basin, drain & water pipes - I'll be having a mixer tap attached to the cupboard - so pipes will need to go through the top of cupboard), and opinions on which looks better (see photos). With the larger cupboard I am looking at removing the end with the 2 doors (not the cutlery door end) - it has damage on the outer section, I'm looking at perhaps making these OPEN SHELVES - with a bit of fanciness added (decorative trims?). I've purchased this Vanity Basin also - while I love the look of the Basin sitting on top of cupboard, does it suit? or is it to large, and should I perhaps have in set into the top? SO MANY QUESTIONS ha ha ha. Any ideas are welcome!!! I've come to rely on this site for all of my renovations & restoring. LOVE IT!!!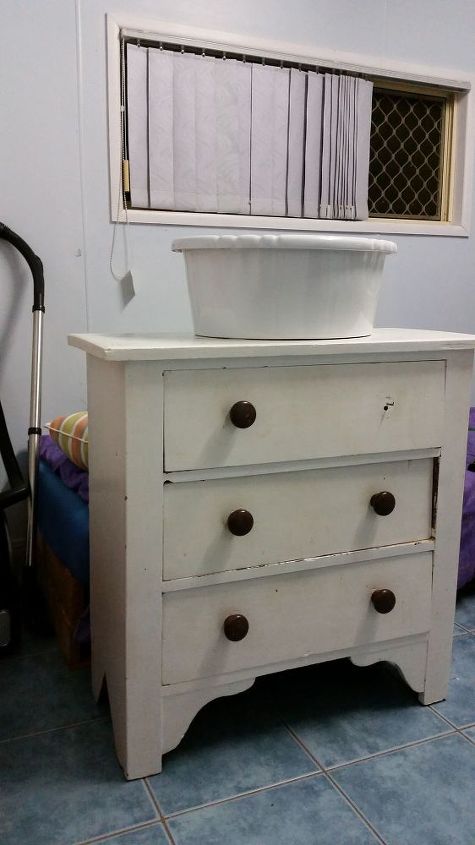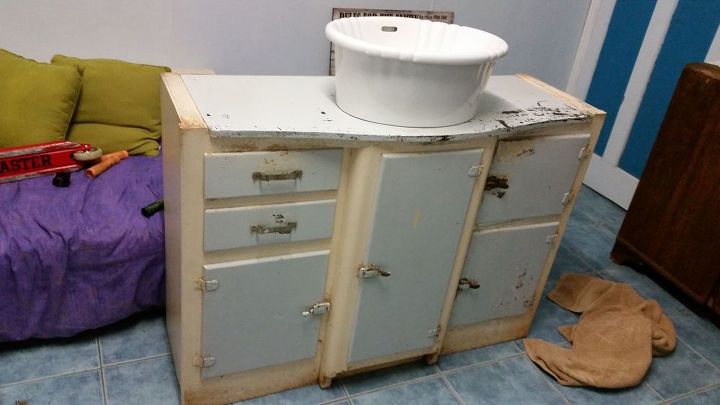 Related Discussions

Patty Gill Shaver
on Aug 17, 2019
I need a 15 inch or less depth bathroom vanity. Would prefer it be 36 to 48 inches wide with storage. I've looked everywhere. Any ideas? Pam
on May 05, 2019
We are installing a new bathroom vanity in our half bath. The walls are not square so it doesn't fit snug. I am worried about water and the gap. Any ideas?

Renee'
on Feb 04, 2019
I have this empty space in my bathroom. Originally it was for a built-in laundry hamper. Please provide suggestions on how or what to do with this space? Anna
on Feb 02, 2021
This accent wall was done by the previous owners, by hand. I would really like to update it, maybe paint it. Possibly a charcoal color? What are your thoughts? Jrh48681363
on Feb 01, 2020 Mer33151453
on Sep 19, 2018
Hello i would appreciate yogur help, my attic bathroom hace the shower in the higest part, next os the sink and opposite is the bath. I need a new plug in the lowest ... See more
Laurie
on Jan 03, 2020
I want to hang a poster in the bathroom, but I don't know what to seal it with to make sure the humidity/water does not ruin it. Any suggestions?