Need ideas for this weird shaped closet/pantry!



Answered
Need help redesigning/reorganizing this odd shaped space in my daughters small bedroom. It's a closet ir pantry. The shelves are deep and on the other end comes out to the baseme stairs so I don't want to do any knock out construction.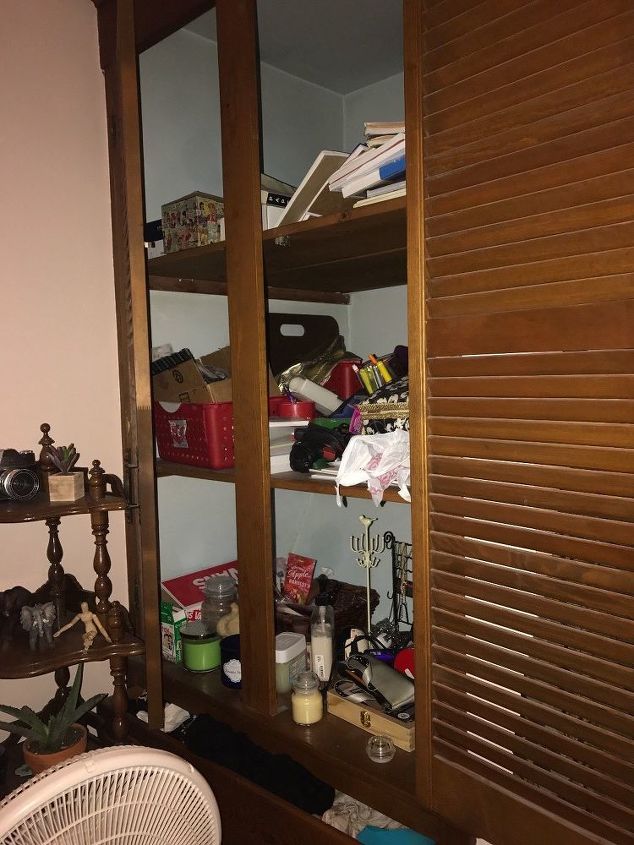 Related Discussions Sharon
on Jan 03, 2017
I would like to put my canned goods in some type of order so you can see what they are and get to them more easily. Right now, they are stacked on top of each other b... See more

Kari
on Sep 27, 2017
I have a coat closet which is 19 1/2" D x 30" W x 90"H. The pictures show my largest frustration which is the hangers must sit sideways due to the depth of the close... See more

Hillela G.
on Feb 08, 2017
I need your help!!! Jo
on Mar 28, 2018
I have tied, pinned, and folded but NOTHING keeps the blankets from falling on the floor...there used to be an adjustable lightweight rail that went at the foot of th... See more

Merry D
on May 06, 2013
Pictured is my hall coat closet. This is the floor footprint: 4.5' X 1'X 4.5' X 2.5'. But not square, sort of angled. There was a single wire rack extending across th... See more

Fow624147
on Jul 05, 2017

Cr180
on Sep 14, 2015
Ok, I know y'all are gonna come through for me!! We have two upstairs bedrooms that each have a long skinny dormer space that I have never figured out what to do wit... See more