Can I ask Home Depot to cut my wood? Answered
I'm seriously considering making this twisty side table that I fell in love with here on Hometalk (By Chasing A Dream), but cutting the wood is a bit too ambitious for me.
I was wondering if I can simply buy the wood at Home Depot and give them the cut list. Will they cut it for me? Has anyone done that?
Here's her incredible how-to, btw:
https://www.hometalk.com/diy/build/furniture/diy-twisty-side-table-10464990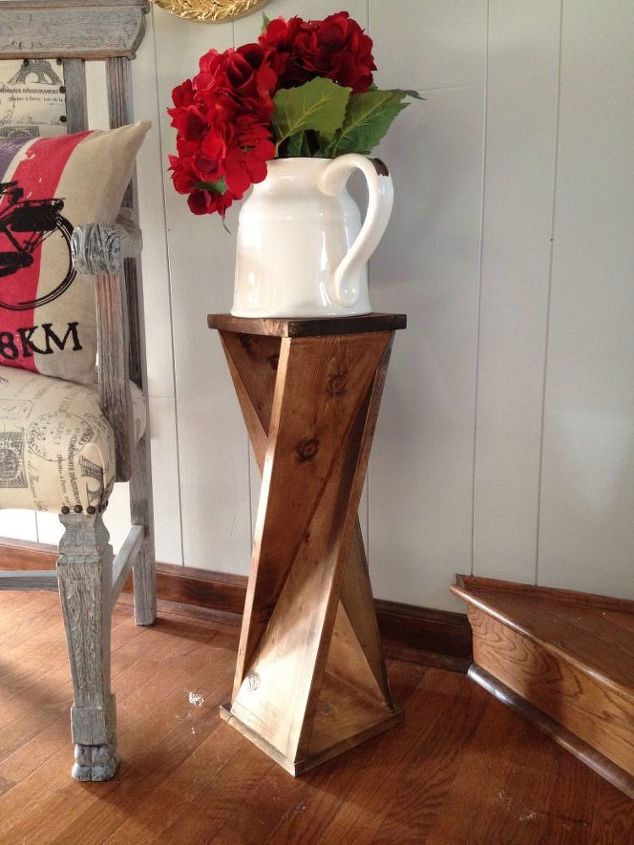 Related Discussions Sherri
on Nov 13, 2018
I have a small porch on my trailer and I want to close it in for the winter. I have alot of wood pallets would like to use them if possible. Very cold winters and I'm... See more

Dot
on Aug 07, 2017
This would also go behind my electric stove. What is the best thing to use to seal it so it can be cleaned and not have grease sticking to it! The pallets would go wh... See more Holly
on Jun 10, 2016
I need to condition my leather couch. What can I use? Lulu Kirby
on Mar 04, 2015
The cupboards in my mobile home are peeling badly. I'd like to paint them, but don't know how to remove the papery, flaking faux wood that's on them now so the paint ... See more

Conniemay65
on Jan 11, 2017
What can I put under sofa legs so it won't slide on my wood floors.? I have front legs on a rug, but doesn't help much. Lse31994851
on Apr 17, 2018
The rubber pads on our kitchen TV left dark horrible marks on our light birch cabinet. I've tried several products but nothing has worked. Ex:baking soda, peroxid, ... See more Mcastler
on Feb 06, 2017
my jar of wood filler is bone dry, and am trying to rehydrate it-using hot water and covering it. any other ideas? -margaret