How can I build my own ottoman? Answered
How can I build my own ottoman with storage from scratch? I'm looking to build something like this.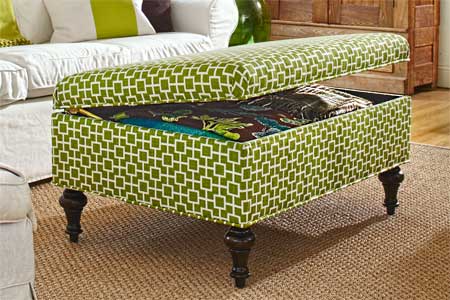 Related Discussions

Kathy Thornton
on Mar 04, 2020
I just bought a new mattress set and my bed is about a foot higher. The problem is I have arthritis, and it's hard for me to climb in. I saw some steps and risers on ... See more

Lucy Ricardo
on Feb 09, 2020
Looking for advice on how to build a Pallet Platform. I have 2 pallets that I would like to use to create a platform for my PediQ Chair. Does the wood have to be trea... See more Suzie
on Nov 03, 2019
I have a lg wood pouch that was built for me. I need to find a cheap way to put skirting around it. As I'm a very strict income. I do have a lot of good extra wood th... See more Linda
on Sep 05, 2019
how can i build a medium size window with window box underneath it for my She Shed..a fake window.

Dwight Jackson
on Jun 26, 2019

Hid15920322
on Sep 20, 2019
I was wondering if anyone had any ideas if you can't afford to build a roof over your deck what else would work? We live in missouri so we get all 4 seasons any help ... See more

Suzanne Brosseau
on May 01, 2020
need a n idea to take out wet bathing suit when coming out of hottub on deck