How can I remove or cut off this screw?



Answered
I'm making a desk by using two two-drawer file cabinets and putting a wood top on them. I'm not very skilled at all with my electric screw driver/drill nor with cutting wood and things, but I'm determined. It doesn't have to be beautiful -- just usable. :-) One file is 2 inches shorter than the other one so right now I'm making a 2-in. platform for the shorter one to sit on. I found scrap wood in the garage to construct this from. Soooo, I've successfully screwed in 3 of the 4 screws I need for part of this. But one, as you see here, one didn't go all the way in and the Phillips head slot has been ruined. I need to cut this off even with the wood. I have a Harbor Freight Chicago Electric multifunction tool. Would it cut this screw flush with the wood? If so, can you post a pix of the bladel I need to use in it to accomplish this? OR, is there another way to do this? I know that my neighbor can do it but he's at work and won't be home until this evening and I'd really like to make some progress on this this afternoon.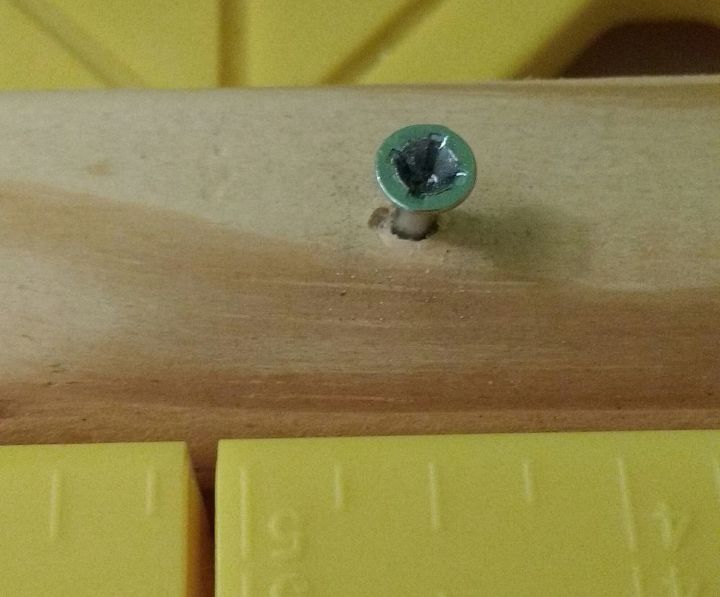 Related Discussions

Meredith Moen McConnell
on Nov 03, 2015
I disassembled the pallet by sawing through the nails. When I tried to remove the nails from the boards they would not budge. I don't mind the look at all of the nail... See more

Jlkrsak
on Nov 08, 2015
It is a light water stain. Lorraine
on Nov 03, 2016
I have white cloudy marks on oak table from heat- how do I remove them?

Joel Hayes
on Dec 08, 2018
How can I build a fireplace in an alcove that we can remove when we move out? I want it to look like its built in but the height of the alcove is 9 ft. We have consid... See more

Dishay
on May 04, 2019
I am wanting to reposition shelves so I'm able to organize only bathroom in house of four

Anna Ibarra
on Sep 02, 2013
I am trying to remove the cabinet doors to my tiny laundry room. It's so closed in and thought if I remove doors it might open it up. Problem is that the hinges were ... See more Rosie
on Jul 05, 2021
Hello! We moved in to a new house and the previous owners had installed some floating shelves. How we we can't work out how to take them off. We've tried pulling ... See more