Nightstand cat litter box Answered
I've been online for hours looking for a 3rd litter box for my 6 year old male cat who has decided to use my carpets/rugs as a litter box. I found a really cute one that looks like a storage or night stand, fully enclosed, but with an opening for the cat to get to the litter box. It ranges in price, anywhere from $100 to $144. It looks to be made of beadboard, has legs, and a shelf above it with "legs" to create an opening between the shelf and the base. Does anyone have instructions or suggestions on how I could make one of these myself? It might not be as elaborate, but it wouldn't be as expensive, either. Thanks!
I tried to include a photo, but wasn't able to. There is a picture of it on Walmart.com or Amazon.com or Overstock.com, all at varying prices. Again, Thanks!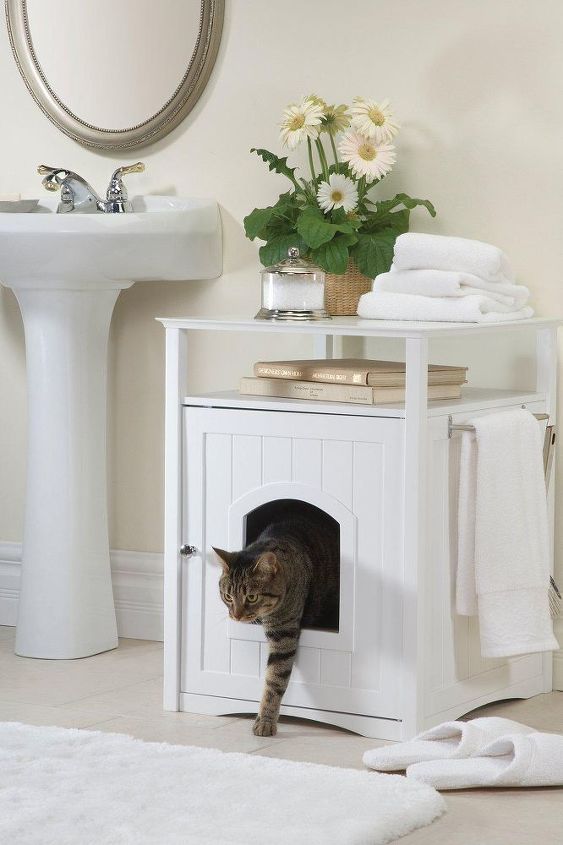 Related Discussions Rick D
on Apr 03, 2021
I have a chipped and peeling laminated nightstand top, otherwise the nightstand is perfectly fine. Can anyone recommend a quick fix? 516maria
on Feb 06, 2020
Have these cute end tables on each side of my bed, I love them,, however surface area on top is too small. Thinking of adding some type of platform (maybe flat piece ... See more Leanne
on Feb 12, 2020
I already asked this question but I have more questions about the piece. Thank you for all of your advice! Don't know what I'd do without you guys. Quick Update to my... See more

Karen Reed
on Aug 09, 2018
How can i raise this higher without making it look ugly. Bet13722673
on Feb 27, 2018
I hrave water stains on my cherry wood nightstand table. I tried mayonnaise to no avail. Any other ideas?Thanks,Betsy CD
on Jul 09, 2018
How do you get rid of musty smell in wood nightstand w/1 drawer. Have tried vinegar, baking soda, Fabreze along with setting it out in the sun. None of these have w... See more

Martina G.
on Jan 13, 2016
Both night stands have peeling laminate and raised, water damaged areas on top. Can they be saved? My son's girlfriend wanted one of these two night stands painted i... See more