How to make a cover over my gazebo? Answered
12x12
the frame is metal and the cover need to be removable, ive use paint drop cloths and tarps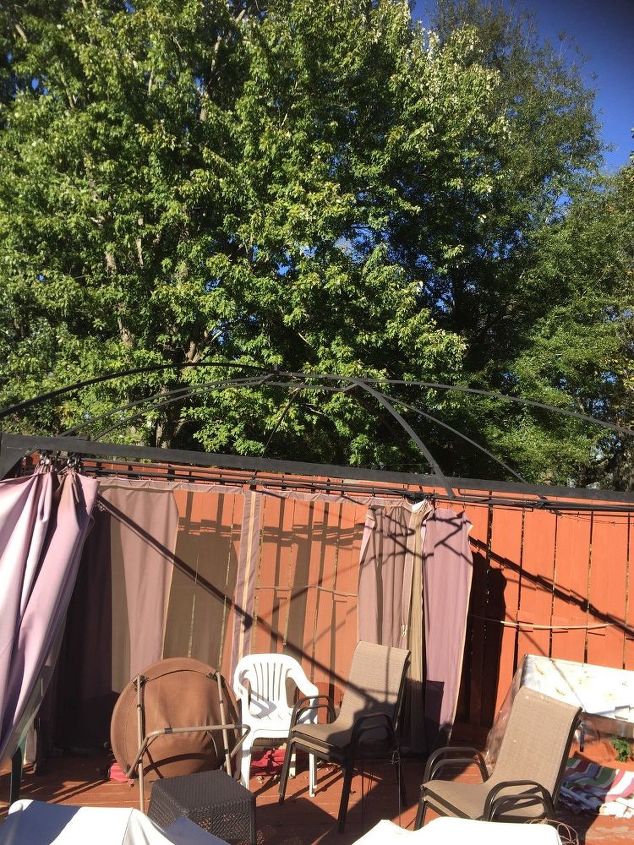 Related Discussions Lyn
on Aug 29, 2018
My gazebo is on my deck. There is a gap between the roof of my house and the roof of the gazebo (about 1 foot). I'd like to put something between them to block the ... See more K_a7863698
on May 15, 2017
My gazebo canopy frame & canopy were destroyed during a storm but my gazebo frame is bolted into the deck & still perfect. Thinking of using painters tarps to make a... See more

Janjan Smith
on Aug 26, 2019
Keep rain from blowing in on lean to roofed covered deck? LK
on Apr 02, 2019
Anyone have any clever ideas on how to make a nice looking light cover to go over an outdoor motion light? I've attached a picture of the fixture. I'd like to put... See more
Lynn
on Jun 28, 2019
I stain my porch looks terrible every Time the dogs walk on it they leave feet prints I try to mop up and it leave dirt marks it always looks dirty Cj dennison
on Jul 26, 2019
I have cement floors on my porch and they are stained.cj