Answered
I recently bought my husband some polo shirts and he got oil stains on them. Unfortunately, I was not able to wash it right away and the stain set in. One shirt in particular a plain white one looks like we poured oil on it. The stains are really bad. I have tried bleach, hydrogen peroxide and dawn dish soap, dawn by itself, i think i even tried Awesome. Is there anything we can try without having to buy lots of products. I even bought Soilove (btw i bought mine for $1. Ebay has it for $5.45 + $5.95 s/h) I followed instructions and nothing. I even went as far as soaking the whites in hot water with dawn and hydrogen peroxide, our diy laundry soap and bleach and nothing. Also my daughter's boyfriend works at the junkyard and his clothes are full of engine oil. We tried washing them but also nothing. I'm running out of options.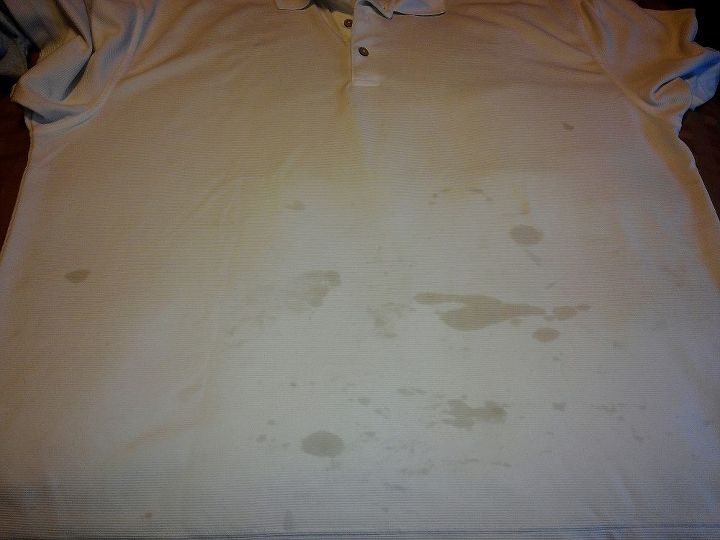 Related Discussions

Abby
on Nov 24, 2021
How to clean paint brushes with paint thinner? Maggie
on Dec 29, 2020
How do I wash pillows to remove the smell of smoke?

Abby
on Nov 15, 2021
Vinegar seems to be the answer to everything. So how do I use it to clean my mirror?

Silvia Yanira
on Jan 04, 2019

Abby
on Nov 02, 2021
I have granite countertops. I want to clean them using baking soda. Any good concoctions out there?

Christina
on Nov 05, 2014
How can I remove paint and other stains from my laundry room utility sink?

Beca @ Creative Dominican
on Jan 04, 2014
Does anyone else have a problem with their washer and/or dryer living water spot looking stains on their clothes??? And if yes, how do you get them out of your clothe... See more