How Do You Clean Your Granite Counters? Answered
We have man-made granite on our kitchen counters and bar. Ourshas tiny, tiny pieces of white shells in it which means no acid products shouldbe used to clean it.
My research tells me not to use ANY cleaner with acid orcitrus base material in it. The company where we bought this says "just usewater," but this does not disinfect. Andsince Dr. Oz. tells us that our kitchen counter and sink harbors more bacteria thanour toilets, I am not content to just wash with soap and water only.
We are totally organic here and because we are on a septicsystem and drink our ground water so we use no bleach. Normally we use a 50% vinegarand 50% spray mixture, or Dr. Bronner's organic soap to clean everything but thevinegar is acidic and the Dr. Bronner's has a citrus base in it. I use to buy aproduct at Target that had no citrus in it but can't find it anymore.
I've considered making my own spray using essential oils(tea tree oil) but I'm not sure if the oil might negatively affect the granite….
Do any of you have any suggestion for a product (either homemade/orstore bought) that get around my need for organic and no bleach and the granitescriteria for no citrus?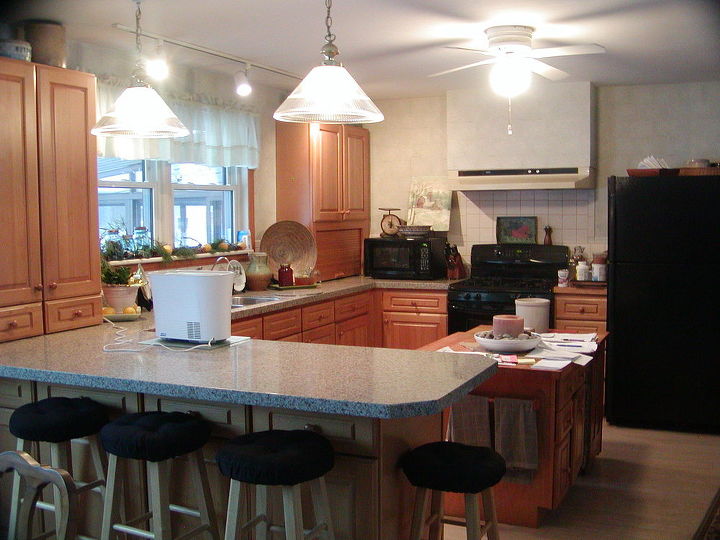 Related Discussions Dede
on Feb 16, 2018
Every time I clean my mirrors, they end up having tons of streaks and almost look worse than before I started. What could I use to clean them that won't leave streaks... See more Lav34479187
on Dec 07, 2018
Help! I burned my pan. How do I clean stainless steel cookware that's been burned? Lilia
on May 25, 2018
How to clean glass shower doors

Bertha Smiley
on Jun 09, 2020
My kitchen cabinets are embarrassingly greasy. Please share your degreasing tips with me so I don't have to cringe every time I glance at my cabinets.

Abby
on Nov 03, 2021
How to remove caulk from my tiles? Cin15906457
on Dec 31, 2016
We had a leaky faucet and now rust has seeped into granite which is porous.Have tried steel wool, peroxide, and baking soda, no luck.Any suggestions on how to clean g... See more
Kathy Reitz
on Jan 31, 2019
How do I clean a long standing soap stain on my granite counter top without hurting the granite? It surrounds the built in soap dispenser that came with the counter t... See more