How can I make a replica of this snowman?



Answered
This male snowman is part of a group of four snow people figures I purchased in 2000. When I bought them, I bought Daddy, Mommy, Daughter, and Son snow people. At that time, it was just our four family members. I want to replicate one for my sweet son in law. Have looked all over the internet but have yet to find one like it. I'm thinking to make a cast and pour a figure. I can paint it here at home. Have plenty of paint varieties here. Any ideas would be appreciated greatly.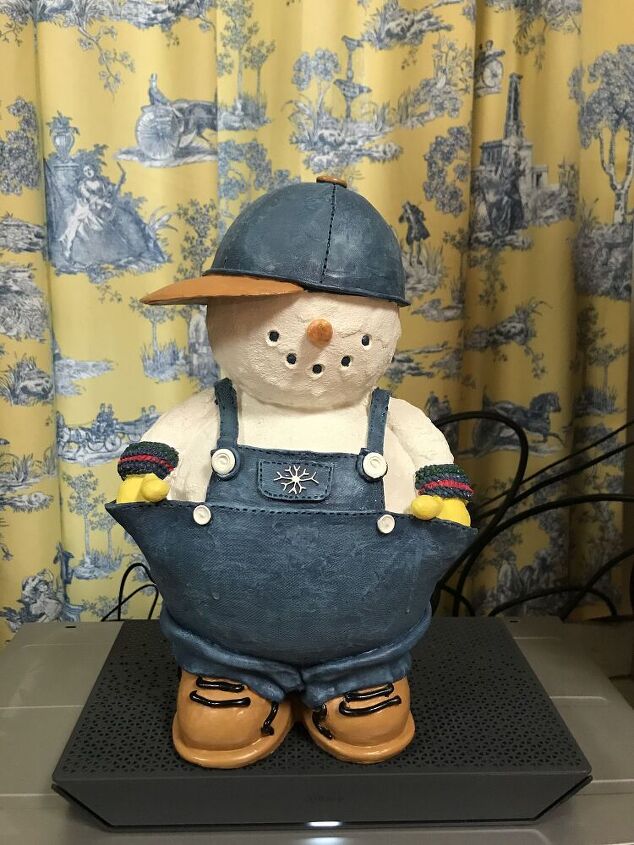 Related Discussions

Jennifer Hillard
on Jun 08, 2017
My son in getting married and his fiancee has large glass cylinders for the center pieces. We have the floating candles, but she wants flowers or petals suspended thr... See more

Catherine Kainer
on Oct 18, 2019
Make airplane wings for a horse costume.

Deidra Perry
on Dec 03, 2018
My mother & I have a few pieces of jewelry I wear anymore. How can we use it instead of throwing g it away?

Denise Christman
on May 24, 2015
I live in a mobile home that has those nasty particle board cabinets with a thin paper covering that is peeling off. What is the best way to paint these? Do I need to... See more

Lorrie Moore
on Dec 06, 2019 Viniebenet
on Mar 07, 2020
Kinda hard to explain what i mean in the title, but in short - I live in Mauritius. Over here, most things are hard to get or just completely unavailable.I've been th... See more Deah
on Mar 07, 2020