Cut out Christmas trees- what can I use? Answered
I'm making these cut out trees for my church for the Christmas season(on a larger scale). We are not a mega church, therefore my budget is small. Cardboard has proven to not hold up to the rigors of the season for us, but plywood sheets get speedy. Can anyone think of a material that would work AND be less expensive than plywood?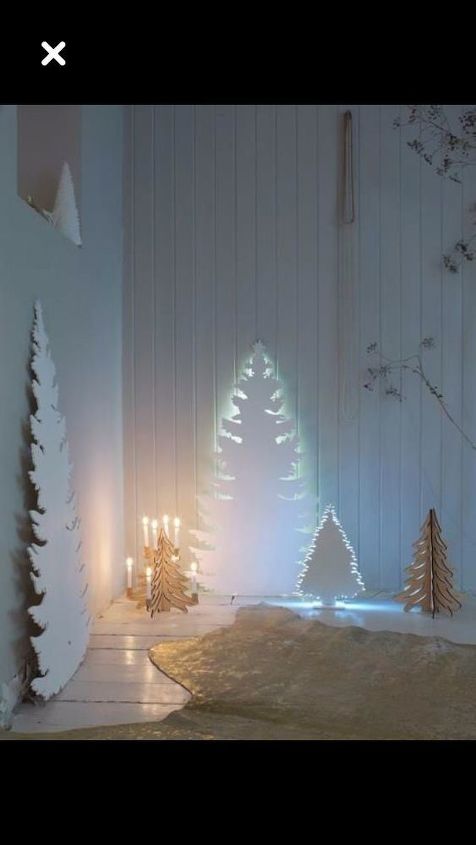 Related Discussions

GeeJudy
on Oct 28, 2014
My sister and I each had one of this and my mom let us keep them on in our bedroom before we fell asleep--nice memories. And the tree would spin when the lightbulb he... See more Val7394925
on Dec 21, 2019
Recently I saw a post on this site turning plastic bells into rusty appearing ones using cinnamon. Now I can't find it. Anyone remember seeing it and can point me in ... See more

Culpepper Carpets and Interiors, Inc.
on Mar 26, 2012
Just turn them upside down and open them, then insert a roll of paper towel and tada, you have yourself a brand new paper towel holder that is not only beautiful, but... See more Melissa
on Jan 24, 2014
Our new house has a sunken conversation pit in front of the fireplace. It's about 6X6 and has three steps into the 'pit' and booth-like backs on each side. My adult... See more

Mary B
on Mar 19, 2012

Jessica
on Dec 06, 2017
I got a great deal on Spectrum's Macklin storage bins ($5 each!) and bought twelve to put in two cube storage organizers. They'll look great for kitchen storage IMO... See more