 Answered
I was gifted this (in my opinion) pretty ugly lotus flower lamp a few years ago. When we rehabbed our house, it was one of the first things we took over there because we didn't really care if it got gross in the process. Turns out, the thing is a powerful beast lit up! It would be perfect in my sewing room if I didn't hate the way it looked. I know some people love this stuff, but it's not my style so you probably won't talk me into it! I was thinking a coat of oil rubbed bronze would cover the brass that I dislike so much, but I'm not really sure what to do about those shades. I don't think I want to makeover the glass shades, I am leaning toward replacing them all together. The bulbs are standard size, and the petal shades screw on to the base. Most basic "accessory" size lamp shades I've seen are the ones that clip on to the tiny lightbulb, but replacement shades would definitely need to be on the small size. Help!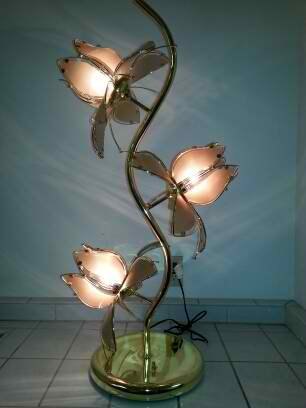 Related Discussions

Christine
on Jul 26, 2015
I love the shape and size of this lamp, but the colors and flowers are just NOT doing it for me. I'm not sure if its some sort of applique or just paint. It has textu... See more Crissy
on Oct 02, 2016
I need ideas to update an ugly, stained vinyl jewelry box.

Sherry
on Oct 13, 2018
Hi, I have a challenge if anyone is up to helping me with ideas. I sleep in a hospital bed and everyone knows how ugly they are. The head and footboard are metal to... See more Candy
on Nov 12, 2019

Joan D Faryan
on Mar 04, 2018
i want to make a book case headboard for twin bed frame . i can,t find any i like . and th width is to big . i only have like 38" wide to work with and the f... See more Yon28809439
on Dec 17, 2017 Molly Perser
on Jan 31, 2020
I want to do some large twine balls for outside. What would one use to stiffen the twine and stabd up to tge weather?