Answered
I wanted to tell you how to make your own mod podge..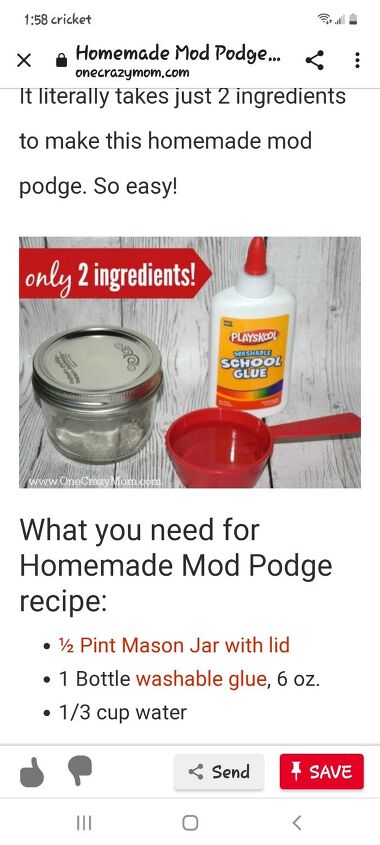 Related Discussions

Kirsten Ruiz
on Oct 23, 2020
How can I preserve a 100 year old sticker on a glass pane. It is an old Pacific Telegraph and Telephone sticker on a door from a building that burned. The door and ... See more Phyllis Grossman
on Nov 20, 2020
I purchased small 2oz. plastic flip top squeeze bottles to use for hand sanitizer that I plan to bling with rhinestones and give as small Christmas gifts.I was wonder... See more Khicks4330
on Aug 02, 2020
I am placing wood trim on the edge of a mirror. What adhesive or adhesive tape would be best to use Bonnie
on Nov 18, 2021
I have been trying to drill a hole in the bottom of plastic ornaments to make a topariry but have been unsuccessful. Tried glue gun with no glue stick and a drill and... See more

Corina Roberts Lilly
on Aug 24, 2020
I want to make a board for my mom, she has Alzheimer's and is in LTC facility. She get a agitated every evening, I need a board to help keep her busy. ANY SUGGESTIONS Melanie Wyma
on Aug 26, 2020
I have a very large, heavy, oval silverplated butler's tray that I want to attach metal legs to, to make an end table or small coffee table. I don't know how to a... See more

Jennifer E Roark
on Dec 20, 2020
How do you get dried modge podge off a canvas painting? I put a layer on over my painting but it didn't dry clear at all .