Creating a Basket Wall for a Cozy Cottage Style
4 Materials
$10
30 Minutes
Easy
I love the look of a basket wall! You can find these baskets at most thrift stores. They are so inexpensive and yet create a look of warmth and texture. You can even paint them! Decorating a wall, for me at least, used to consist of art and pictures. Now anything goes! You can hang rugs, signs and even plants! I love it!
Gallery walls
of random items are very popular today too.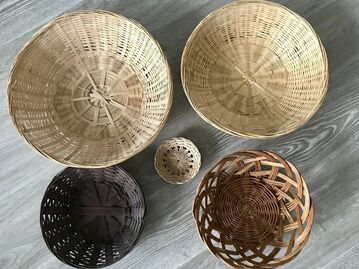 Basket walls can be as creative as you want them to be. I'm going to show you a few tricks on how to arrange them!
How to create a Basket Wall:
Gather materials; baskets, paper, pencil, scissors, 3M command strips, painters tape.
Lay baskets on top of white paper. Note; tape paper together to make a bigger paper if the basket exceeds the size.
Lay the baskets flat on the paper and trace them.
Cut out the paper on the lines you traced.
Start creating arrangements with the paper cut outs.
Use the painters tape to tape the cut outs on the wall in the arrangement you want to hang your baskets in.
Once you're happy with the arrangement (this might take a little shifting), replace the paper cut outs with the baskets. Use the 3M command strips to attach the baskets to the wall.
Enjoy your new basket wall!
I love how it instantly adds texture and warmth to a space, even around a TV! I've shared another project where I decorated around a TV with
wooden crates HERE
!
Do you have any similar baskets lying around your home? Let's decorate with them!
Enjoyed the project?
Any price and availability information displayed on [relevant Amazon Site(s), as applicable] at the time of purchase will apply to the purchase of this product.
Hometalk may collect a small share of sales from the links on this page.
More info

Want more details about this and other DIY projects? Check out my blog post!
Go
Published January 31st, 2020 10:19 AM
Popular Project Book
Popular DIY Questions