Can anyone tell me the name of this house plant please ?



Answered
I have had this plant for best part of 15 yrs now, its only ever flowered once. The flowers are amazing, almost rubbery. They come in clusters of around 8-10 little white & pink star shaped flowers, which let off the most gorgeous scent & have little water droplets on!! Basically this is this plants life story- My step mother gave me this plant when I was in my 20's (I am 40 now), it used to live in a beaded shell hanging thing & was entwined all up & though it & hung very happily from a hook in the ceiling, it flowered just the once. My best friend at the time thought it be good idea to 'Re Plant' it into a bigger pot (& it still remains in that bigger pot which is not overly huge still) It has never flowered or even grown at all ever since she did that 15 odd yrs ago, but nor has it died? Its almost like its laying dormant? I am now married & often tell my husband & kids that it used to flower & that the flowers are really amazing, I often get the feeling that neither one believes me as they have NEVER even witnessed it grow a single new leaf :) I refuse to give up on this old plant of mine & would actually LOVE to show the disbelievers in our house what this plant's true potential can be. PLEASE HELP xx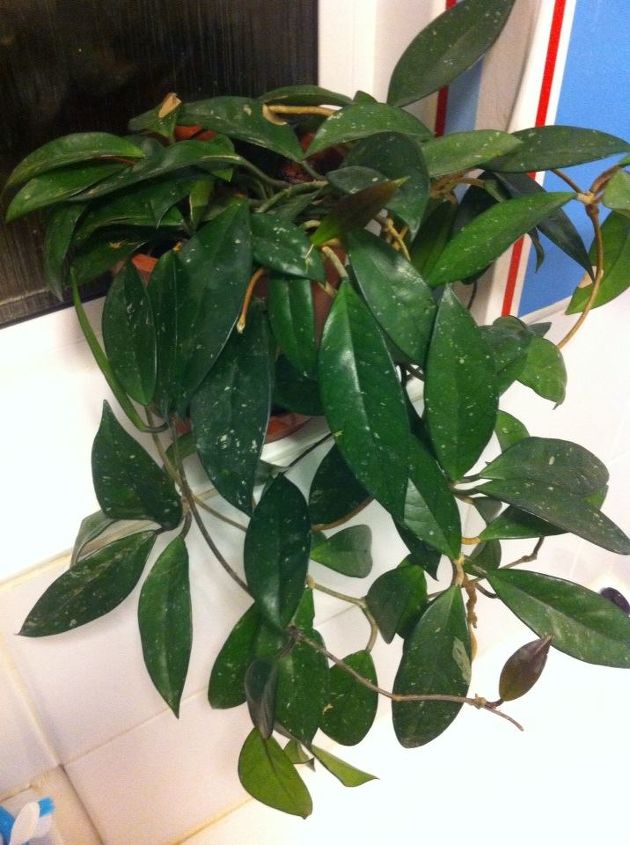 Related Discussions

Abby
on Nov 29, 2021
How to grow ginger in water?

Angela A
on Mar 11, 2015
I was getting ready to split and pot up this houseplant (sorry can't remember the name) when I noticed all these little white-ish spots in the dirt around the roots..... See more

Beth S
on May 07, 2012

Brianna Ring
on Jun 01, 2018
My thyme started getting these brown/Black dots all over all the leaves. The whole plant is affected. Can it be saved? Is it safe to eat?

Dianne
on May 07, 2012 Teresa C
on Jun 06, 2013
These are August beauty gardenias planted last year. One side of the bush may be fine, the other side appears black & dead... Can anyone tell me what to do to fix... See more Teresa C
on May 30, 2019
Can someone please tell me why the leaves are curling on my angel trumpets? Thanks!