Has anyone ever added open shelving ABOVE existing kitchen cabinets? Answered
Hello, all. Just curious if any has ever added open shelving above existing kitchen cabinets. We have a vaulted ceiling, and when our house was built, running cabinets up as far as you could was neither the fashion or in the budget. But now, every time I look at the area, I think: "wasted space." So, how about? Any ideas on if this can be done, and if so, how? Thanks in advance.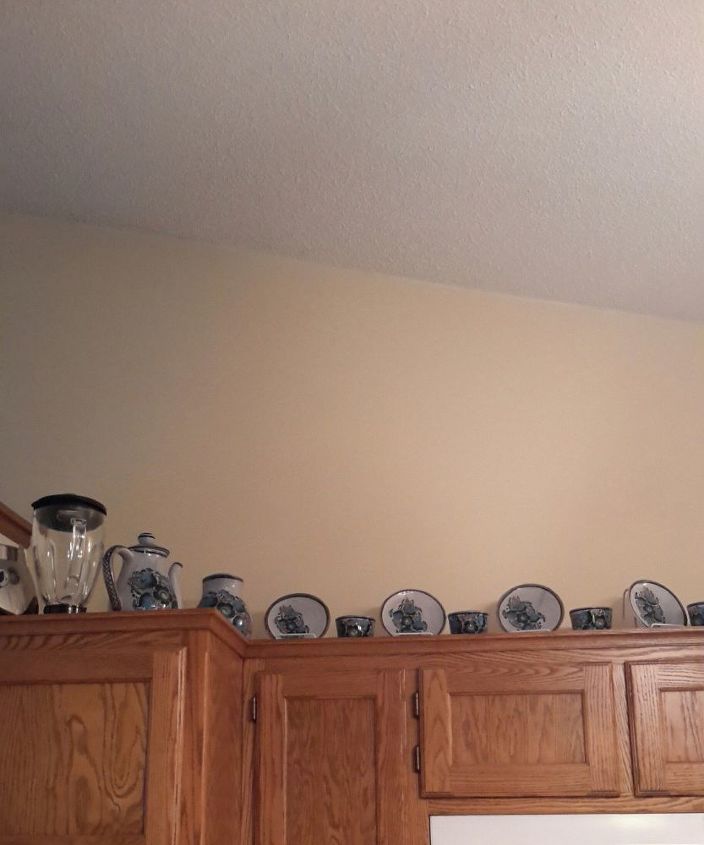 Example of what I am talking about.
Related Discussions

Julie Moyna
on Jan 21, 2016
I have over 100 antique and vintage cookie cutters in various sizes and shapes. Some copper, some galvanized and some red plastic. They are kept in two of my apotheca... See more Sharon
on Dec 29, 2016
Does anyone have a means of storing Tupperware lids? I currently have the standing up against the cabinet wall and the back wall. Other non-essential dishes hold up t... See more

Alice
on Jan 19, 2016
I am tired of trying to get items out of this peninsula cabinet. I can't reach or see what's back in there. I would love to do something on the opposite side so that ... See more Kathleen k parker
on Jan 22, 2017
Live in an apartment where space is limited. Have a lot of bottles of vitamins and supplements, and they are all over the counter, overflowing from a container that u... See more

White Oak Studio Designs
on Feb 16, 2014
My kitchen was remodeled by the formerowners and we just added an above the fridge cupboard for extra storage. (We are retired and willnot be able to totally redo thi... See more KA W
on Feb 24, 2015
I have a two door cabinet over the stove in the kitchen. I would like some ideas as to what items should be stored there. No spices, etc. should be over the stove. Al... See more

Kathy F
on Sep 17, 2014
I'm redecorating our new lake house in the Catskills in the French country cottage/shabby chic theme (on a budget). I've found so many great ideas here on HT, I thou... See more