 Answered
Here we have another thrift shop find! Please help! I bought this last summer, spray painted it and put it on the screened porch at the side of the house - looked fine. Have moved it to the front porch and though it doesn't look bad - from a distance the drawers and top stand out like a bonfire!!!!!!!!!!! Would love to hear your suggestions for these drawers and top - the top is cheap butcher block so painting it would not hurt my feelings. The house color is called Woodstock Brown - evidently by someone who is still at Woodstock because it looks green to me - the front door is wood and the trim is ranch red, All the metal furniture is black iron - the log stuff will be moving when planting days are over but the dog and I need a soft spot to rest and sip my tea.
Thanks for your thoughts you are always most generous and creative!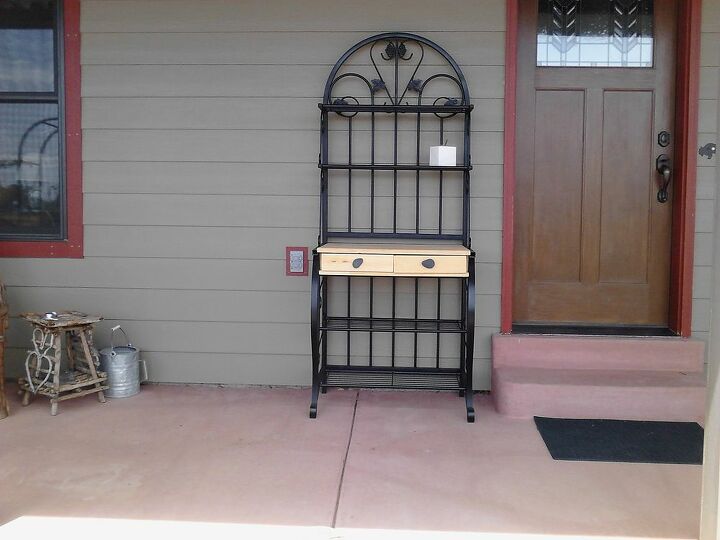 Related Discussions

Culpepper Carpets and Interiors, Inc.
on Mar 26, 2012
Just turn them upside down and open them, then insert a roll of paper towel and tada, you have yourself a brand new paper towel holder that is not only beautiful, but... See more

Casey Gragg
on Mar 30, 2016
I have this local store that sells cigar boxes and I cannot help but buy all the wooden ones knowing there is 1000's of ideas and then the almight brain block hits an... See more

Confessions Of A Junkaholic
on Oct 19, 2013
I'm a picker and came across lots and lots of these beauties. I took home several boxes of these purdies and are using for different projects. However, I want to find... See more

South Shore Shabby Shack
on Aug 10, 2013
Well, we make Lawn Art, totem poles... We're currently making mushrooms & flowers and totems on poles....

Rachel
on Sep 21, 2016
I bought a house and there is a really ugly phone that is attached to the hole in the entrance way. Erica
on Jan 15, 2015
Hi! I have been racking my brain trying to repurpose three copper metal spools that I have. The only ideas I have seem (to me) a bit lame. I have thought of sectionin... See more

B.J. B
on Aug 01, 2013
I found a bin of these doll heads in a dime store. They were all 25 cents a piece and I really liked the delicate faces. Each package has arms included. I wanted to p... See more