How can I make this uneven eyesore in my backyard appealing?



Answered
This is one of the corners in my backyard. It's an oval shape around the back of my house, but with corners in some spots. It's weird! I've been told the corner had a couple of palm trees that have since died. The ground is uneven (sort of a hill) with rocks underground. (I'm in San Antonio, TX where the soil is limestone). Yes, that is an apartment complex behind the fence. I've given up trying to hide that aspect, as that doesn't bother me as much as that darn corner. I don't have much of a green thumb. I do however love color. I am in desperate need of some ideas as to how to make the eyesore fun and exciting. You are ALL so wonderful and creative. I am a NEWBIE and am appreciative of any feedback!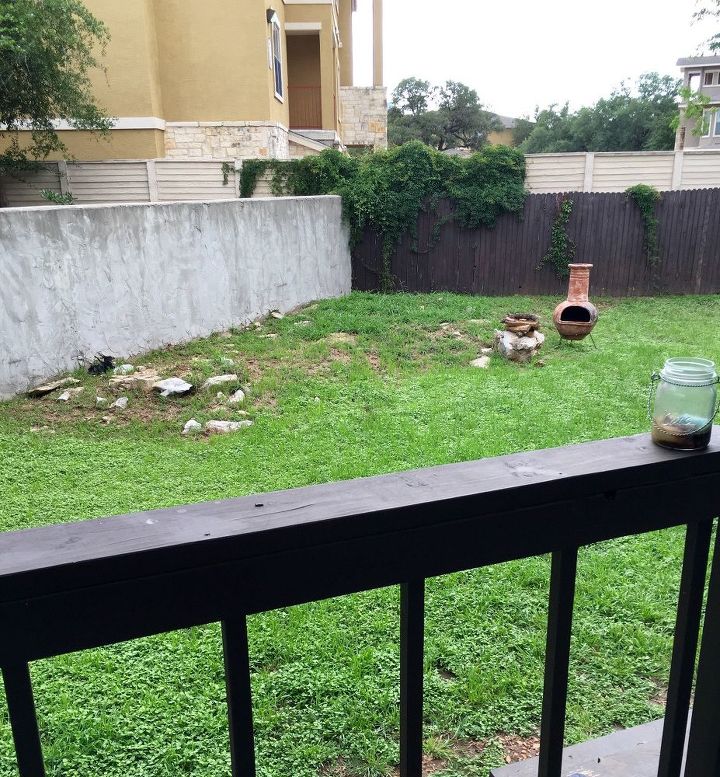 Related Discussions

Abby
on Nov 29, 2021
How to grow ginger in water?

Sharyn Mindurownbiznis
on Apr 05, 2017
hello, i have an area in my backyard ( wetlands ) that fills with standing water making it a mosquito breeding ground .. can anyone suggest help here ?? Oh this all s... See more Jennifer
on Mar 28, 2019
I want to cover up the grass with brick to have a floor instead of grass Ang25634697
on Feb 10, 2018
I have a large hill with a plastic weed barrier covering it and the pine straw on top of that. The pine straw just slides down I would love any creative ideas pleas... See more

MiTmite9
on Mar 07, 2017
Bermuda buttercup (Oxalis pes-caprae) covers my back yard. How do I get rid of this "sourgrass"? I have tried weedwhacking, but the plants have tiny bulblets and chop... See more